March 19, 2012 by insideout
Work is underway on beautiful window art for the Canopy Room.  A local artisan, Robin Pierson, is being featured in Cape Cod magazine and we got a sneak preview when Robin stopped by to pickup the window last week.  Please scroll down below for a copy of the article.  We can not wait to show off our piece of art when it is done!!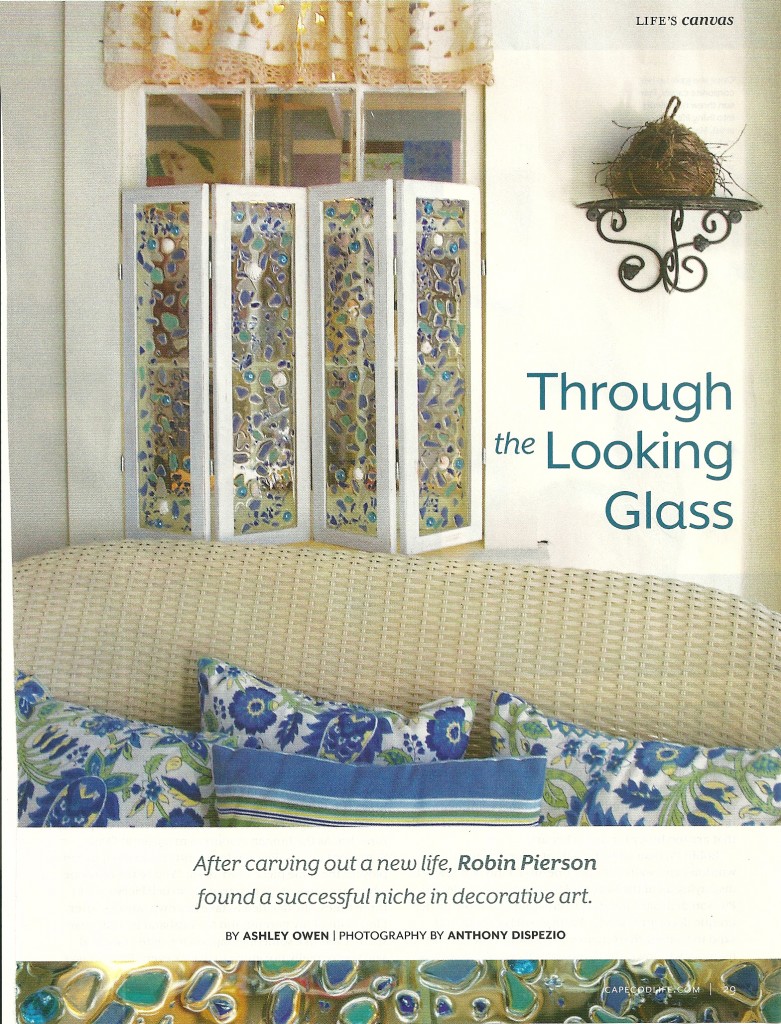 February 22, 2012 by insideout
As the winter continues to be mild we are VERY thankful.  The exterior walls of the Inn have been opened into the new addition as the framing of interior walls, rough in plumbing and rough in electrical begins.  Needless to say it is quite dusty and drafty, we can just imagine how cold it would be if it were a typical winter:)
Thought you might enjoy some pictures showing the breakthrough and also some of the new rooms being framed out.
February 17, 2012 by insideout
We are very pleased that as part of our Inn expansion we will be adding a wonderful piece of art to the Canopy room.  The Captain's Manor Inn has wonderful original windows with plantation shutters that we have worked hard to maintain as we renovate and add on to the property.  In the Canopy room we are in the process of taking out the old bathroom and an old closet and that space will now become part of the living area of the bedroom.  We are also adding on a new bathroom which will feature custom tile work and a large 5 x 4 foot shower.  To do this work we are adding to the back of the room and we have decided to keep the old window and plantation shutter but to create a work of art highlighted within the window as specialized in by Robin Pearson.  We will keep you posted on the progress  but in the meantime here are some pictures what has been taken out and some initial work by Robin as well as an example of her work from another project.  Enjoy.
October 20, 2011 by insideout
Today we have the trench dug, the new electrical 400 amp service wiring in the ground and the trench already filled in.  Almost like nothing happened

August 27, 2011 by insideout
Batten down the hatches!!!  Irene is on her way and we have been getting ready.  Yesterday we had the 2nd floor and cupola windows boarded up.  Of course timing is everything…because we have been planning a bridal party for 25 women with the mother of the bride and several of her friends…and Irene decides to join the party.  As you will see in some pictures below they are boarding up the windows while we are setting up the veranda for the bridal shower!!!!!!!!!!!!!
A picture below of the finished product with The Captain's Manor Inn all boarded up.  Who knew staying at our bed & breakfast could be such an adventure

Kevin also thought he might like to park his truck in the garage and my car under the veranda……..as you can see the car idea was not going to work but a valiant effort.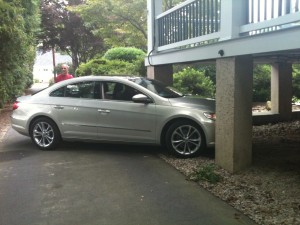 The Captain's Manor Inn is very proud to announce that we have joined the Clean the World Organization.
Clean the World implements its mission through collecting, sorting and sanitizing discarded soap, shampoo, conditioner and lotion products donated from participating hospitality partners sanitizing and recycling these product donations and delivering them to domestic homeless shelters and impoverished countries suffering from high death rates
Since its inception in February of 2009, Clean the World has put over 6 million soap bars and 200,000 pounds of shampoo and conditioner back into human use, simultaneously eliminating nearly 340 tons of waste.   They are proud to share that over 95% of our cash donations and program fees go directly into program operations.
March 4, 2011 by insideout
With Spring in the air are you looking for something fun and different to do? We invite you to come and relax at our Falmouth, Ma bed and breakfast Patriot's Day weekend (April 15-17) and enjoy all there is to offer.
The special event we recommend on the 16 and 17th is the 8th biennial Model Boat Show just down the street in Woods Hole. The show runs from 9 am to 4 pm on Saturday and 9 am to 3 pm on Sunday. There will be over 150 model boats on display including a special tug boat exhibit. There will also be radio-controlled model boat races on Eel Pond. The model boats will be on display in five buildings on Water Street and the Woods Hole Public Library will exhibit hand-crafted boats, including a live demonstration of the restoration of an antique model boat.
The Boat Show will also feature a researcher from WHOI's Deep Submergences Lab and a speaker from the Compass Project GPS Tracked Mini Sailboat Oceangoing Race and Expedition.
Tickets: $12
Contact: The Woods Hole Historical Museum
February 18, 2011 by insideout
We invite you to enjoy wonderful talent showcased by the Falmouth Theatre Guild in Falmouth, Ma. during a stay at our Cape Cod bed and breakfast.  The first show of the season is the wonderful Sound of Music featuring the well known music of Roger Rodgers and lyrics by Oscar Hammerstein. (also this weekend are the daffodil festivals Spohr Gardens, Falmouth and Nantucket island)
Opening Friday April 29th and running weekends through Sunday May 15th.
Performance times are 7:30 PM Fridays & Saturdays, and 2:00 PM Sundays. To purchase tickets please click here.
The theatre is currently undergoing renovations for the box office and restrooms.  While on a walk the other day I took a few pictures of the work underway.
February 15, 2011 by insideout
Come stay at our Cape Cod bed and breakfast over the April 29, 2001 to May 1, 2011 weekend and enjoy a stroll to nearby Spohr Garden in Falmouth, Ma where over 34 species of daffodils will be in full bloom.  You might also enjoy a day trip to the island of Nantucket for their famous festival.   Enjoy our simply elegant accomodations while getting your first feel of spring in Cape Cod.
Starting in early April until mid May there are millions of daffodils of every color, size and shape that bloom on Nantucket. One of the many events taking place over the weekend is the 37th Annual Daffodil Flower Show.  The show is free to all and is held at the Coffin School on 4 Winter Street.  Saturday from 2-5 PM and Sunday from 10AM-4:30 PM.  The show features entries in horticulture, arrangement & photography.
January 25, 2011 by insideout
Please click  below to see a You tube video on the latest renovation update for the Lawrence bathroom.