January 24, 2015 by Trish Robinson
Homespun Garden is a gift shop in Cape Cod located at 174 Main Street in Falmouth Village. Parking is available on Main Street as well as across
from the store at Town Hall Square or in the large parking lot accessed off of Library Lane which runs between Main Street and Katherine Lee Bates Road.
Year Established – The Homespun Garden store was purchased by its new owner Susan in 2011. Susan had come from the corporate world
and had dreamed for some time of opening a gift shop.
The story behind the name/logo – The previous owner of the store had focused on a lot of garden items such as silk floral arrangements. Susan has diversified the offerings in the shop and moved from a garden shop to more of a gift shop. The store has a diverse selection of fashion items (Wallaroo hats-UPF 50+, scarves-cashmere and alpaca, gloves), jewelry, bath and body, home décor, cards and gifts for the pet lover and their pet.
Fan Favorite Items –
As part of the bath and body offering, Inis fragrance is one customer favorite. Inis is an exciting Irish Cologne for Women and Men known as a scent that embodies the coolness, clarity and purity of the sea.
The Solmate socks at Homespun are so popular that Susan has to continually reorder them to keep them in stock. The socks are multi-patterned and colorful mismatched socks for children, adults, and babies. Read more about them in the unique offering section below.
Other fan favorites are the various items that Susan offers that are made on Cape Cod by local artisans. Some examples are handmade ceramic ornaments by Lori Dawn, beach windows by Robin Paris and also Cape Cod made candles and diffusers, hand etched wine glasses, and jewelry.
Unique Offering
– Susan showcases a number of items that are created from recycled/repurposed materials.
We talked about one fan favorite being the solmate socks. These made in the U.S.A socks are knit from the repurposing of recycled cotton yarn. By using this recycle yarn the amount of cotton waste sent to landfills is reduced. Their yarns also reduce the amount of water, land use, pesticides and herbicides used to grow new cotton fibers as well as eliminates the need for harmful chemicals to dye virgin cotton yarn. The sock designing, knitting, and finishing final touches are completed at small, family-owned businesses in Vermont, North Carolina, and Oregon. Fingerless gloves from SolMate Socks are also available and come in a variety of vibrant patterns. They too are from 100% recycled cotton yarn and made in the USA.
Other popular items using recycled materials are the handmade ceramic and sea glass pottery items and the colorful fish mobiles in the store.
Interesting Trivia
– Based on customer interest and request Susan will be expanding the faith based gift section in the store in 2015.
General Information
–
Homespun Garden is open year round with summer hours daily of 10-6. Winter hours are Monday – Friday 10-5 and on Sunday from 11-6. To reach the store by phone please call (508) 457-4441.
July 15, 2011 by insideout
Just a short stroll from our bed and breakfast accomodations at The Captain's Manor Inn is lovely Falmouth Village.  This year's arts and crafts street festival on July 13th in Falmouth Village Cape Cod was fantastic.  It was a hot summer day and thousands of people came to enjoy the beautiful handcrafted items and to see many of the artisans performing their craft work.  Main Street in Falmouth was closed down as they do each year for the festival.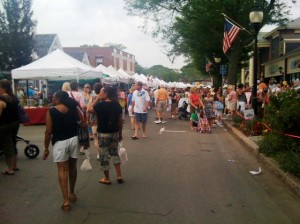 The Falmouth Village shops and restaurants on main street participate in the big day and many set up tables outside their shops and restaurants with great merchandise or nice ice cold water and other snacks.
Pictures of a couple of our favorite artisan booths are shown below.