July 12, 2015 by Trish Robinson
Highfield Hall Hydrangea Festival events will be held on July 12, 2015. There will be lectures, artists, flower arrangements and a book signing event with Joan Harrison who is the author of Cape Cod Hydrangeas. Cape Cod is know for its many varieties of hydrangeas which range in color from white to blue and pink and purple plus assorted color combinations in between. The color is often discussed as a result of the blend of soil in which the hydrangeas are located with a key part being the level of PH in the soil. Gardeners will tell us that hydrangeas will often change color on their own when they are transplanted as they adjust to the new environment. In fact is it not unusual to see several different colors on one shrub the next year after planting.We are also told that it is much easier to change a hydrangea from pink to blue that it is from blue to pink. When changing a hydrangea from pink to blue we are told to add aluminum to the soil. When trying to change from blue to pink you would subtract aluminum from the soil or take is out of reach of the hydrangea root system.
June 28, 2015 by Trish Robinson
Highfield Hall Open House will begin at 12:30pm and go until 3:00pm. Enjoy a narrated estate walk at 12:30 where you will learn about the glorious grounds of the Highfield Hall estate.
A highlight of the Highfield Hall open house will be the fairy houses that you will find throughout the property. In fact from 12:30pm to 1:30 pm there will be a Fairy House Making Workshop.
There will also be an artists reception from 1 – 3:00 where the work of three distinct mediums will be showcased to include Glass: by Bryan Randa's ; Paper Nests: Huguette May drawings and photographs; and Cut Paper: Selections from The Guild of American Papercutters.
For more information on this or other events at Highfield Hall click here.
June 28, 2015 by Trish Robinson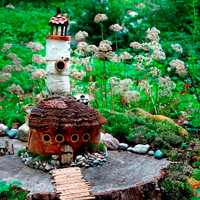 The fairy houses of Highfield Hall will be on display from June 28-August 1. The exhibit's curator, Sally Mavor, is a renowned children's book author who crafts her own needlework fabric reliefs which are photographed and included as the illustrations in her books. Mavor reached out to over thirty local artists and asked them each to create a house for "wee folk" or fairies, and gave them little other instruction. The artists utilized natural materials and a deluge of imagination to carefully craft each individual dwelling. The houses were given whimsical names like "mushroom manor," "believerton," and "home of the tooth fairy." The houses are peppered along the trails of the already magical Bebe Woods.
Opening day of the fairy houses of Highfield Hall brings with it nearly 1,000 fairy seekers, and around 100 each day after that. Maps are available for those who want to be sure to see each and every house. Attendees can enter to win a fairy family crafted by Sally Mavor; tickets are available here. The fairy houses of Highfield Hall exhibit is always a favorite of Falmouth residents. Spending an afternoon walking through the beautiful Bebe Woods coupled with a hunt for adorably imaginative fairy houses makes for memorably wondrous experience.
April 29, 2015 by Trish Robinson
Falmouth Village Blooming, a Cape Cod Spring Celebration, will kick off on Friday May 1, 2015 and continue through Sunday May 10, 2015 – the day we celebrate Mothers everywhere.
A highlight of the Falmouth Village Blooming events is the display and judging of the May Baskets that can be found all along Falmouth Village Main Street and Queen Buyway at the many retail shops, restaurants and Bed and Breakfast's that line Main Street.  Several awards are given such as Most Creative however the one most enjoy is the People's Choice Award which is decided based on the many voters who join in on the fun with the Falmouth Village Facebook display of all the participating May Baskets. You can expect more than 30 different participants with unique and creative basket presentations.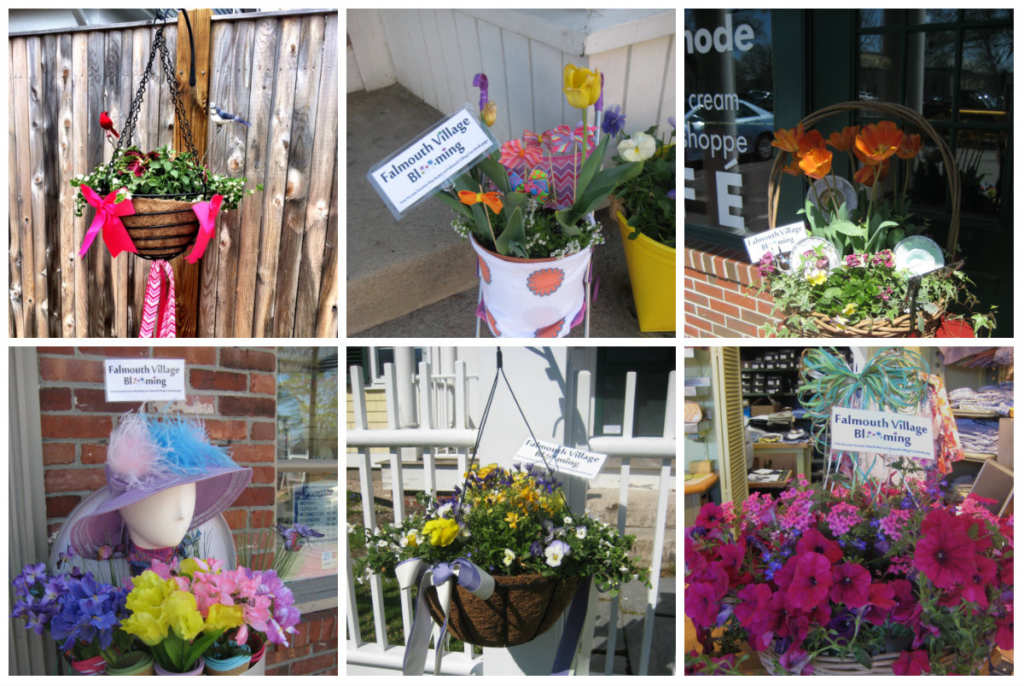 All throughout the May 1st through May 10th timeframe you will find Flower Power Happy Hours at the restaurants and Blooming Bargains at retailers.
For the first weekend of festivities, May 1-3, bring the kids for some special fun as part of Kids Spring Hat Weekend. A number of stores and restaurants will provide the ingredients and instruction for special hat-making projects. Some of the participating stores are Eight Cousins Bookstores, Black Dog, Pies ala Mode and Pickle Jar Kitchen Restaurant.
On May 3rd you might enjoy participating in an Estate Walk at Highfield Hall starting at 12:30. You can start in the gardens where Terry Soares, the Highfield Garden Coordinator will be on hand and then join the estate walk docent who will share stories of the Beebe family who built this beautiful estate.
On May 5th join in the 5th annual Cinco de Mayo celebration courtesy of Anejo Mexican Bistro where the adjoining street is closed to traffic and under a tent you will find freshly prepared $5 burritos as well as margaritas and beer all while enjoying live music. The additional nicety is that all the proceeds go to the ALS Foundation.
Also on May 5th from 6-8 pm you may be inspired to head to Highfield Hall and get your hands dirty while you create your very own May garden basket with your teacher for the event Anna Holmes.
A spring story time event is another kid centric activity that is planned on Saturday May 9th at Eight Cousins bookstore. The feature is the ever popular Guess How Much I Love You. Be sure to get your very own photo with Little Nut Brown Hare who will be on hand for the fun.
Closing out Falmouth Village Blooming are two great gardening events.
First is the Falmouth Bed and Breakfast Association Garden Tour which runs from 1:00 to 3:00 on May 10th.
Last year The Captain's Manor Inn created a brand new leisure garden for guests. This year be sure to visit The Captain's Manor Inn and The Palmer House Inn which are both by the Falmouth Village Green. The Captain's Manor Inn is featuring a new raised bed gardening event with cattle troughs and The Palmer House is doing a herb container garden presentation. The Woods Hole Passage Bed and Breakfast is having a child centered garden project. Several other bed and breakfasts are having tea and cookies on the porch open houses such as Woods Hole Inn and Baileys by the Sea.
Second is the Falmouth Beautification Council Plant Sale from 9 am to 3 pm at Town Hall Square in Falmouth Village. This is a extremely popular annual event where you can find daylilies, shrubs, herbs, annual, perennials, veggies and more. This year some workshops will also be offered for kids and gardeners.
July 1, 2014 by Trish Robinson
Portals and Passageways @ Highfield Hall is a incredible undertaking where the show features the work of 25 regional artists who have created artworks throughout Highfield Hall's remarkable mansion and the surrounding grounds and gardens. Annie Dean, Highfield's director of programs and exhibitions is the curator for the show. In creating the show Annie sought to have visitors explore the property and the adjacent Beebe Woods coming from a new point of view. The concept is that visitors will embark on passageways that will guide them to new places and portals that encourage a new point of view. A number of temporary environmental works will be on display between June 29th and September 7th as well as some more permanent sculptures that were installed in the spring. Artisans include those skilled in sculpture, fiber art, landscape design, glass blowing, photography and painting. The exhibition is created as a walking tour that starts inside Highfield Mansion and then continues through the grounds.
May 17, 2014 by Trish Robinson
Plays well with plants is one of many garden themed events at Highfield Hall this spring. At this event come and join in a lecture and Q & A session with the renowned garden designer Louis Raymond.  The topic is creating a garden of a lifetime.
May 4, 2014 by Trish Robinson
Family Maypole Celebration promises to be a fabulous time for family members of all ages. After a long cold winter and early spring this weekend promises to bring some sunshine and warmer weather. Enjoy crafts, music and games as well as meet artist Alfie Glover and admire The Spirits of the Garden sculpture! The Maypole Dance will take place at 3:00 pm. For more information go to www.highfieldhall.org
April 24, 2014 by Trish Robinson

Falmouth Village Blooming is a celebration of all that is Spring. The spring celebration kicks off on May 1st with a self guided tour through Falmouth Village to view May Baskets on display.
You have a chance to vote on the Falmouth Village Facebook page for your favorite as participants vie for the People's choice award.
Enjoy Flower Power Happy Hours at participating restaurants from 3- 5 pm during the first two weekends of the May. Throughout the Village be on the lookout for Blooming Bargains at all the participating retail shops.
Some of the very special scheduled events include: Cinco de Mayo celebration at Anejo's Mexican Bistro on May 5th, Ring around the Maypole at Highfield Hall on May 4th, Annual Falmouth Beautification Sale on May 10th, Just for Kids Colonial Gardening at Falmouth Museums on the Green on May 10th and the Falmouth Bed & Breakfast Association Garden Tour on May 10th from 1 – 3 pm.
There is something fun for everyone during Falmouth Village Blooming. For the latest information and schedule click here to go to the Falmouth Village website.
April 5, 2014 by Trish Robinson
Come to the Highfield Hall Open House and celebrate spring! This free event is open to the public and offers a variety of activities for all ages. Refreshments are being offered courtesy of Atria Woodbriar who is the sponsor of the open house and the spring art exhibitions at Highfield Hall.
Family Fun events from 11:30 am until 1:00 pm include a self-guided Highfield architecture scavenger hunt and fun crafts to make with children's program teachers.
At 12:30 pm docents Jean Wentzell and Bobbi Miner will host an estate walk of the Highfield property where you can learn about the Beebe family and the expansive property they owned in Falmouth.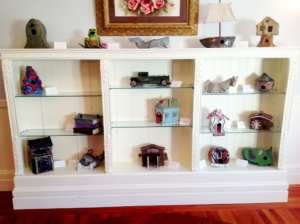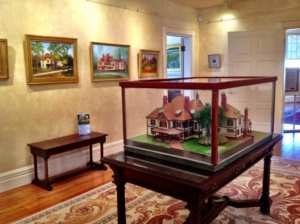 From 1:00pm until 3:00 pm there will be an artist reception for the spring exhibits as well as a painting demonstration, music and refreshments. The artist exhibitions include A House for all Seasons, Ambient Light Domestic interiority, Fragment House and All around the House. A lovely collaboration between Falmouth High School ceramic students and Falmouth Museums on the Green resulted in the exhibition entitled If These Houses Could Talk.
At 2:00 pm enjoy a poetry reading from the new book, Domestic Interiors and then at 3:00 pm relax to Robert Wyatt performing his favorite songs of spring on the grand piano.
April 2, 2014 by Trish Robinson
A three part cooking series with Alan Zox author of this popular book will be held at Highfield Hall. Class 1 is April 2nd ; Class 2 is APril 23rd  and Class 3 is May 14th