September 26, 2015 by Trish Robinson
Jazz Fest Falmouth – September 26 – October 4
Enjoy lectures, recitals, concerts, jam sessions, a jazz brunch and a jazz stroll during the eight day celebration presented by Arts Falmouth. The jazz stroll will take place on Friday, October 2nd and promises to be a night full of great music. Jazz Fest Falmouth will help downtown Falmouth come alive on Friday night. The shops and restaurants from Queen's Buyway and along Main Street will showcase an assortment of groups ranging from classic swing to avant-garde with a little blues thrown in. Just wander in and out;  it's all free.  The 2015 line up features both local favorites and award winning ensembles. Each performance time is staggered giving you an opportunity to hear a variety of jazz styles throughout the evening. Click here for the 2015 Jazz Stroll lineup.
September 26:  Robert Wyatt on Louis Armstrong
September 27:  Pianist Jon Weber on almost everything else about jazz
September 30:  Toni Lynn Washington, Queen of the Blues
October 2:  Jazz Stroll along Main Street
October 3:  Denise Donatelli in concert at Highfield Theater
October 4:  Goodis & Glenn Jazz Brunch at Persy's
September 13, 2014 by Trish Robinson
Jazz Stroll 2014 is set for October 3, 2014 in lovely Falmouth Village. This free event takes place at numerous retail and restaurant locations in Queen's Buyway and along Main Street. Groups performing range from duos to trios as well as quartets and even the big band group Stage Door Canteen at Liam Maquire's Irish Pub to close out this fabulous night. You might even choose to enjoy a jam session to be held at Jacks located at 327 Gifford Street.
Make a night of it and come for a stroll where you can mix musical pleasure with dinner and dessert or a little retail therapy while on for your jazz stroll.
This evening is one of many events that make up 2014 Jazzfest. One of this year's highlight performances will be Grammy Winner Catherine Russell who will be performing at Highfield Theater on Saturday, October 4th at 7:30 pm. Russell is celebrated as a genuine jazz and blues singer who can sing virtually anything. Her Grammy was awarded for her featured work on the soundtrack of the HBO series Boardwalk Empire. Catherine has performed with Steely Dan, Paul Simon, David Bowie, Cyndi Lauper and numerous other musical talents.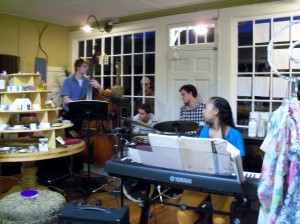 October 3, 2011 by insideout
What a wonderful event !  The 2011 Jazzfest in Falmouth ran from September 20th until October 2nd.  My personal favorite part was the Jazz Stroll on Friday, September 30 th from 6-10pm.  This free event included 12 different groups performing at various indoor and outdoor venues at Queen's Buyway and along Main Street.  The picture below is of the group Rosemary Ramos Trio who played at Bojangles retail store just around the corner from The Captain's Manor Inn.  What a talented young group of people!