January 24, 2014 by Trish Robinson
Come celebrate St. Patrick's Day in O'Falmouth where everyone has a "bit of the Irish" in them for the St. Patrick's Day weekend.  The fun and activities begin on Friday, March 14th and continue through Monday, March 17th. We encourage you to keep on top of all the activities by liking the Falmouth Village Association facebook page.
We will also share some of the early plans below as we to tell you about The Captain's Manor Inn St. Patrick's Day weekend package.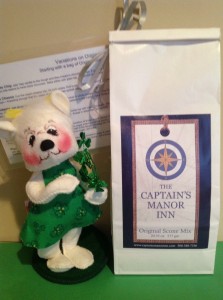 Guests will arrive on Friday, March 15th and find a "Luck of the Irish" welcome basket with a number of goodies waiting in their guestroom. Your innkeepers, Trish and Kevin, will host a wine, beer and snack "Irish Reception" in the Inn's Bistro from 5:30 to 7:00 pm. We encourage everyone to check out Liam Maguire himself serenading diners at Liam Maguire's Irish Pub just a stroll down Main Street from the Inn.
Saturday will be a great day to scavenge for all the great green dot sales found on all variety of retail goods at the unique shops on Main Street in Falmouth Village. On both Saturday and Sunday you can enjoy traditional Irish Music at Liam Maguire's with Rossacroo-Na_Loo starting at 3pm and Shanangan's starting their entertainment set at 9 pm until closing.
Sunday wake up and enjoy a delicious Irish breakfast at The Captain's Manor Inn before heading out to enjoy festivities of the day such as the Irish Step Dancing Demonstration across from the Inn at the Museums on the Green.
Monday there will be a Hat Parade down Main Street sidewalks to the Village Green.
April 29, 2012 by insideout
The Red Chair has continued on its journey of a Better Way to Stay in Cape Cod and has arrived at The Captain's Manor in in Falmouth.  What a wonderful time visiting some of Cape Cod's great landmarks including lovely Inns , museums, eateries, beaches, and quaint villages such as Falmouth Village's main street.
What I found as we chaperoned the chair is that it is famous !  When we went over to the Queens Buyway shops a local bicycle rider yelled out "Is that THE red chair" and we were happy to reply it sure is!  The next stop was Ben & Bill's Chocolate emporium where one of the staff made a point of going to get the local paper and show the rest of her co-workers the article that had been written.  I had no sooner arrived at Highfield Hall and was taking the chair out for its picture in the sunken garden when two of my favorite people from the Hall, Janet and Pat,  came out and said they were just taking about the Red Chair the other day and saying wouldn't it be great if it made a visit here.  Off to the Visitor Center where the cry went out "The Red Chair is here".  My personal favorite was after taking some great shots over at the Nobska Lighthouse a gentlemen made a point of jogging over from across the street saying he just had to see what the fuss was about with THE Red Chair.
Some of our favorite pictures were at the Nobska Lighthouse and Highfield Hall.  Also check out our full gallery of pictures on facebook and our movie on youtube. 
April 18, 2011 by insideout
When you stay at our Cape Cod bed and breakfast you will find an abundant number of wonderful restaurants to choose from in Falmouth, Ma.  We hope you find the link to a walking map below these pictures helpful.   Some pictures of our favorites are shown below the map.  Our guests love the convenience of leaving their car at the Inn and walking to dinner.

Click here to View Falmouth Village Restaurants in a larger map