August 25, 2016 by Trish Robinson
Jam Like a Local
Although we're entering the final stretch of the summer, the music is nowhere near over! Our little piece of Cape Cod absolutely loves live music – and you can actually catch amazing music all year round. We're going to queue you in to where you can catch killer tunes this time of year. Whether you're into jazz, beach rock, or acoustic piano… we've got the spot for you!
Grumpy's Pub:
Grumpy's is the go-to spot in Falmouth for late night tunes and brews. Once you're inside you won't be able to tell if you're still on beachy Cape Cod or if you've been transported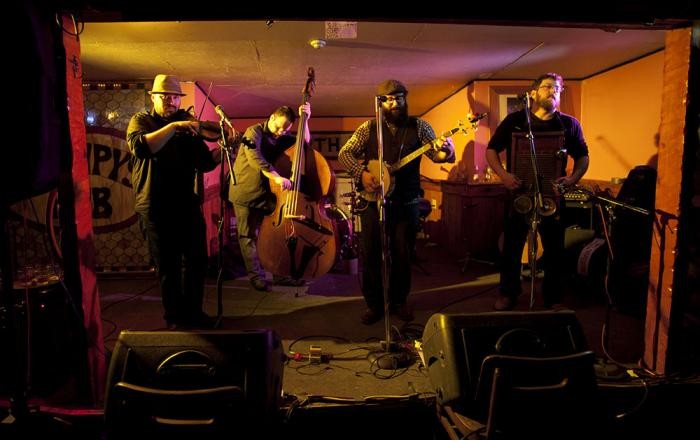 to a killer dive bar in Boston. The best thing about it (besides the inexpensive Narragansett cans) is the proximity from the dance floor to the stage. You feel like you're grooving right along with the bands! Check out their Facebook Page for an updated schedule, or just pop in any Friday or Saturday night to peep what they've got going on! There is occasionally a cover charge, but it's always worth it. Grumpy's books all types of rock, jam, blues, funk and eclectic bands. Another great perk – you can walk back to the Inn in only 2 minutes!  Insider Tip: This may sound a bit weird to non-Cape-Codders… but there's a food cart out front of Grumps that sells lobster rolls… and they're delicious. Don't believe us? Try them!
La Cucina:
Sunday nights at La Cucina are smooth, smooth, smooth! This is the place to be for a delicious Italian meal, an unbeatable glass of vino and of course, some of the best easy listening music around. You can choose to dine inside or outside (depending on how close up you'd like to be to the tunage). This is one of our favorite places to wrap up a weekend. Every Sunday beginning at 7pm, La Cucina comes alive with music! Insider Tip: The house made limoncello is absolutely out of this world and nothing goes better with smooth jazz than smooth limoncello!
Liam's:
With a name like Liam Maguire's Irish Pub, we bet you can guess what kind of music you're in for! One thing that's probably different from most of the Irish pubs you're used to, though –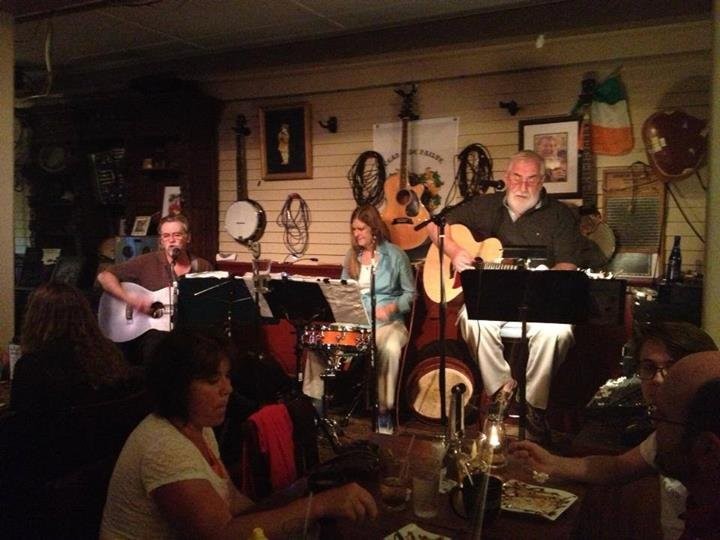 at this Liam's pub, it's Liam himself that plays the music many nights! This is a man with some serious stories, and some serious soul. It's such a treat to head to Liam's for a night full of Guinness, pot pie, and Irish tunes. But wait! There's more! Liam's also hosts karaoke on Tuesdays and Trivia on Wednesdays in addition to live music Thursday-Sunday. For an updated listing of what's going on when, check out their website.
Bear in Boots:
This is a must-experience in Falmouth. The music is great, the food is great, but it's the musical ambiance at Bear in Boots that really takes the scratch-made cake. Let's back up. Everything at Bear in Boots is scratch-made. Everything. Even the ketchup for pete's sake! So, it's no surprise that the musical experience is exactly what you'd expect from a restaurant that takes the time and care to make each and everything they serve – from the bread and butter to the cocktail mixers. The folks at Bear in Boots knew that in order to have the kitchen space required to prep everything in house, they would need to take a little from the dining area. BUT, they were not about to sacrifice music, so they installed a loft! A musician climbs up a little ladder to a loft space equipped with a piano and just enough room for a guitarist. The coolest part? They take requests. But no, you don't yell your request up at the loft through the dining room… that would be a bit uncivilized. When you've got a hankering for a specific jam, you simply write it on a slip of paper, attach it to the pulley system and the musician will hoist it up and play your tune! I mean, if you'll be here on an anniversary weekend and you have a special song with your special someone, is there a cooler way to hear it played!? Insider Tip:
That homemade ketchup we mentioned before… you can buy it by the bottle! Perfect gift for that someone who has everything.
Raw Bar/Boat House:
These two spots are right next to each other on the water in Falmouth. There are so many advantages to two great music destinations being in such close proximity! If one spot is a bit too crowded for you, just bar hop on over to the other! If you're in the mood for a specialty cocktail at one, but dinner at the other – not a problem! These locations offer exactly what you would expect from a music-on-the-water spot… beachy, local, good-time music. At both places you have the option of listening to the music from inside the restaurant or outside; both equipped with water views. Both spots are awesome for live music, a few appetizers and some cold drinks. Insider Tip: the parking spots next to the Raw Bar fill up June 1st and stay full until September. BUT, there's a secret lot! It's right next to Windfall Market, and there's an eensy weensy sign that says 'Raw Bar Parking' that (luckily) lots of people miss 😉
Of the six places mentioned here, you can walk to four of them from the inn. So we invite you to come on down, bring your favorite concert tee-shirt and listed to some great live music the Cape Cod way. To be honest, this blog could go on for miles and these are just a few of the wonderful places close by. If you're in the mood for a trek, whether it be a quick one to Woods Hole (head to the Landing) or a longer one out to Wellfleet (can't miss the Beachcomber) we've got endless recommendations and are happy to help!
January 24, 2014 by Trish Robinson
Come celebrate St. Patrick's Day in O'Falmouth where everyone has a "bit of the Irish" in them for the St. Patrick's Day weekend.  The fun and activities begin on Friday, March 14th and continue through Monday, March 17th. We encourage you to keep on top of all the activities by liking the Falmouth Village Association facebook page.
We will also share some of the early plans below as we to tell you about The Captain's Manor Inn St. Patrick's Day weekend package.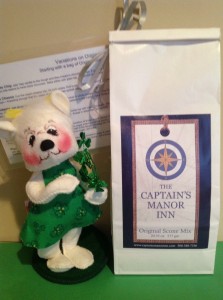 Guests will arrive on Friday, March 15th and find a "Luck of the Irish" welcome basket with a number of goodies waiting in their guestroom. Your innkeepers, Trish and Kevin, will host a wine, beer and snack "Irish Reception" in the Inn's Bistro from 5:30 to 7:00 pm. We encourage everyone to check out Liam Maguire himself serenading diners at Liam Maguire's Irish Pub just a stroll down Main Street from the Inn.
Saturday will be a great day to scavenge for all the great green dot sales found on all variety of retail goods at the unique shops on Main Street in Falmouth Village. On both Saturday and Sunday you can enjoy traditional Irish Music at Liam Maguire's with Rossacroo-Na_Loo starting at 3pm and Shanangan's starting their entertainment set at 9 pm until closing.
Sunday wake up and enjoy a delicious Irish breakfast at The Captain's Manor Inn before heading out to enjoy festivities of the day such as the Irish Step Dancing Demonstration across from the Inn at the Museums on the Green.
Monday there will be a Hat Parade down Main Street sidewalks to the Village Green.
April 29, 2012 by insideout
The Red Chair has continued on its journey of a Better Way to Stay in Cape Cod and has arrived at The Captain's Manor in in Falmouth.  What a wonderful time visiting some of Cape Cod's great landmarks including lovely Inns , museums, eateries, beaches, and quaint villages such as Falmouth Village's main street.
What I found as we chaperoned the chair is that it is famous !  When we went over to the Queens Buyway shops a local bicycle rider yelled out "Is that THE red chair" and we were happy to reply it sure is!  The next stop was Ben & Bill's Chocolate emporium where one of the staff made a point of going to get the local paper and show the rest of her co-workers the article that had been written.  I had no sooner arrived at Highfield Hall and was taking the chair out for its picture in the sunken garden when two of my favorite people from the Hall, Janet and Pat,  came out and said they were just taking about the Red Chair the other day and saying wouldn't it be great if it made a visit here.  Off to the Visitor Center where the cry went out "The Red Chair is here".  My personal favorite was after taking some great shots over at the Nobska Lighthouse a gentlemen made a point of jogging over from across the street saying he just had to see what the fuss was about with THE Red Chair.
Some of our favorite pictures were at the Nobska Lighthouse and Highfield Hall.  Also check out our full gallery of pictures on facebook and our movie on youtube. 
April 18, 2011 by insideout
When you stay at our Cape Cod bed and breakfast you will find an abundant number of wonderful restaurants to choose from in Falmouth, Ma.  We hope you find the link to a walking map below these pictures helpful.   Some pictures of our favorites are shown below the map.  Our guests love the convenience of leaving their car at the Inn and walking to dinner.

Click here to View Falmouth Village Restaurants in a larger map