January 5, 2013 by insideout
Just a short 1/2 hour drive from The Captain's Manor Inn, Sandwich was the first Cape town settled in 1637 and its name was based on a seaport in Kent, England. What was a small agrarian community changed dramatically when a Boston businessman Deming Jarvis established a glass factory in Sandwich. The Boston and Sandwich glass company grew to be one of the largest glass makers in the nation.
A must see in Sandwich is the Heritage Museum and Gardens. This is the largest public garden in southern New England and it is located on 100 acres of magnificent grounds on the banks of Shawnee pond. This site is especially famous for their Dexter Rhododendrons as well as numerous daylilies, hostas and hydrangeas. In addition the gardens feature nationally recognized specialty gardens, water features and sculpture.
The heritage Museum hosts three gallery buildings with diverse exhibitions. Our particular favorite, housed in a reproduced Shaker Round Stone Barn, is an automobile gallery featuring more than 30 beautifully maintained antique American automobiles. Another fine collection is the American Art & Carousel Gallery which includes an extensive collection of folk art and a working vintage carousel from 1908.
Another site you should visit is the Sandwich Glass Museum. There are displays of more than 6000 different glass pieces created by different glass companies in Sandwich during the 19th and 20th centuries. A highlight of your visit will be the opportunity to view glassblowing demonstrations on site. The glassblowing demonstrations are held daily from 10 AM until 4 PM every hour on the hour.
Other interesting glass shops to visit in Sandwich are listed below:
• McDermott Glass Studio & Gallery (272 Cotuit Road, Sandwich, Ma 02563)
Closed Monday, Gallery Tue-Sun 10-5, Glassblowing Thu-Sat 10-5
• Glass Studio on Cape Cod (470 Route 6A, East Sandwich)
www.glassstudiooncapecod.com
• Pairpoint – Americas Oldest Glass Works (Route 6A Sagamore Ma)
www.pairpoint.com
If you have more time to spare in Sandwich perhaps you would enjoy the Heritage Trail:
May 25, 2012 by insideout
The new custom staircase is complete at The Captain's Manor Inn!!  Mike Corsi did a fantastic job and took great pride in designing this centerpiece for the entrance at the Inn.  We look forward to showing off his work to all our guests who visit Cape Cod this summer.  We hope you enjoy the slideshow of the progress from stair treads to finished product.

March 21, 2011 by insideout
The Captain's Manor Inn is offering a lodging package for symposium attendees of 3 days, 2 nights, full breakfast Saturday and Sunday ranging from $318 t0 $358 based on guestroom choice.
A very talented fellow innkeeper, Beth Colt, has developed this symposium in partnership with the Woods Hole Film Festival.  The symposium will take place April 29th – May 1st.
There will be three distinct sessions led, respectively, by actor Sam Waterston, casting director Carolyn Pickman, and talent manager Beth Colt.  The Symposium presents a unique opportunity for actors to enrich their careers through a deeper understanding of the film and television industry provided by experienced professionals.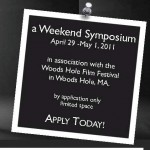 Applications are currently being accepted through the Woods Hole Film Festival Website. Fee to attend is $250 per actor.