March 13, 2016 by Trish Robinson
Falmouth Village Blooming is an experience you don't want to miss! From April 30th-May 9th, Falmouth Village welcomes warmer weather with spring time activities galore! After a long, cold winter, the town of Falmouth is more than excited to shift gears and start preparing for all of the wonderful things that come with spring. Village businesses band together to congratulate everyone on making it through another winter with events, restaurant specials, and retail discounts.
An example of a Flower Power Special would be Cupcake Charlies offering a free cupcake with every 3 purchase and a Blooming Bargain example is 20% off jewelry at the Celebrations store during Falmouth Village Blooming.
Saturday, April 30th will kick off Falmouth Village Blooming and village shops will display their "May Baskets" on the sidewalk in front of their store. We've had some exceptionally creative displays in the past. Here are a few that stood out to us:
Like this one from Bear in Boots Gastropub, a restaurant specializing in homemade comfort food from around the world. Their basket contained delicious herbs and wine corks, two of the things that make a night at Bear and Boots deliciously memorable: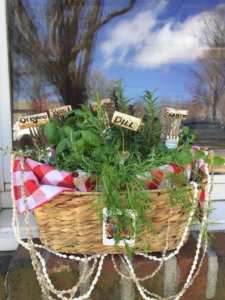 Here's the submission from Pink Polka Dot, winner of most original basket. It's no surprise that Jen incorporated beautiful paper flowers as this shop offers a large selection of artisan greeting cards, distinctive paper goods and unique gifts.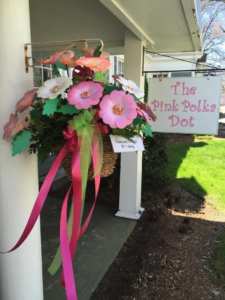 There was no way we were missing out on the fun! Our basket included two harbingers of spring perched atop greenery and fresh flowers. We loved watching passerby stop to take a photo with our display.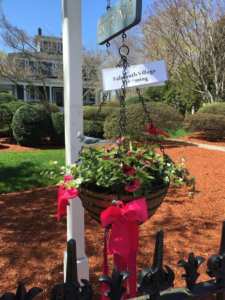 The most fun part about the May baskets? You get to decide the winner! Vote by liking, sharing, or commenting on the photo of the basket that you think is the best, and on May 8th, all of the votes will be tallied and the winner will be announced May 9th. Strolling around the village looking at all of the beautiful baskets is one of our favorite parts of the spring here in Falmouth!
Highfield Hall and Gardens celebrates its welcome back weekend with an open house full of amazing events. Take a tour of the Ice House, built next to the kitchen garden where the Beebe family used to store their food, and serve chilled drinks and ice cream. What an appropriate tour to take to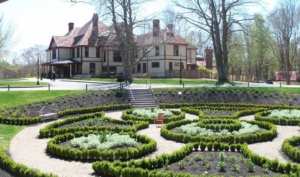 welcome the warm weather! Tour the outdoor estate and learn about the property as well as the history – the team and Highfield will transport you back in time with their recount of what life was like during the 1870's when the property was commissioned to be built. Robert Wyatt will play his favorite songs of spring after the artists reception which will feature 'The Language of Flowers' by Heather Blume. What May Day festivities would be complete without a May pole celebration? Not this one! Take part in the tradition of dancing around the May pole to usher in the new season. This year, for the first time ever, the groundskeeping crew at Highfield will get a little help – from goats! The adorable farm animals will munch on invasive plants and poison ivy, providing a natural, symbiotic solution to unwelcome plant life! Goatscaping will take place all day on May 1st.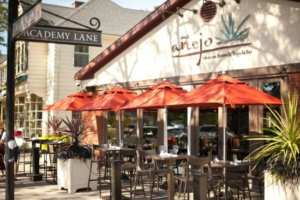 In the mood for a margarita? Anjo's Mexican Bistro livens up Main Street every Cinco de Mayo with an unforgettable fiesta outdoors. They close down the street next to the restaurant to accommodate live music, an outdoor bar, and of course – delicious food! In addition to $5 margaritas, Mexican style beers and burritos, the crew at Anejo's will be offering prizes and giveaways all day long. This is one of Falmouth's favorite festivities, and you're officially invited!
Every year during Falmouth Village Blooming, the Falmouth beautification council hosts its annual plant sale on the green. This is a great opportunity to get supplies for window baskets, outdoor gardens and indoor arrangements. Take a bit of spring home with you as a souvenir!
From April 30th-May 9th you can enjoy bloomin' bargains at local retail shops and flower power specials inspired by the spring at village restaurants. The best part about the celebration? It's all taking place steps away from your room at The Captain's Manor Inn. Once you arrive, you can leave your car keys in your room for the duration of your stay. All of the participating restaurants and shops are right down the street. We'd love for you to enjoy this year's Falmouth Village Blooming at The Captain's Manor Inn.
July 8, 2015 by Trish Robinson
The Falmouth Arts and Crafts Festival annual extravaganza will be held July 8th from 10am until 6pm. This special annual event is celebrating 35 years on Main Street in the iconic cape cod location of Falmouth Village. There will be over 160 artisans showcasing and
selling their wonderful wares and the many boutique shops along Falmouth Village's Main Street will be open and offering specials for this annual event. Restaurants will be well stocked and looking forward to satisfying that healthy appetite you will create from walking and exploring all that Main Street and the Falmouth Arts and Crafts Festival has to offer.
You can be sure to find fine pottery, jewelry, cape cod cloth belts, paintings, blown glass, mirror art, leather goods, children's hand made toys, unique bird houses and planters, milled lavender soaps and gifts, woodcrafts and so much more.
Be sure to check out the special offerings from Falmouth's own Main Street stores like The Black Dog, Soft as a Grape, Homespun Gardens, Treasure Chest, Port Cargo and more.
Stroll down Main Street and explore Queens Buyway for special items at stores like Vagabond View, Cape Chic, and The Pink Polka Dot.
Only held once a year make sure you do not miss this!!
January 31, 2015 by Trish Robinson
The Pink Polka Dot is located at 45 North Main Street in the Queens Buyway shopping venue of Falmouth Village.
Year Established – The Pink Polka Dot was established in 2009 by Jennifer Chagnon.
The story behind the name/logo – Jen knew she wanted to do wedding planning yet she knew she did not want a name with wedding in it because she did not want to limit herself to just wedding or event planning. Jen had always loved the color pink and there was a store she loved as a kid in Florida called the Purple Turtle. After a bit of brainstorming she decided to create a name with her favorite color in the name and hence The Pink Polka Dot. Jen also designed the logo for the store.


Why This Dream – Jen has always loved planning events. While in college she planned events for her sorority as well as large events like concerts for the student activity office. Jen graduated from Embry-Riddle Aeronautical University and is a licensed pilot. She began her career in the world of aviation insurance. When she planned her wedding the idea crystalized that this was something she wanted to do full time and get out of the corporate cubical lifestyle. She also loved the idea of doing everything in a small business from product selection to marketing and sales and being her own boss.
Fan Favorite Items – A lot of customers come year round to purchase cards at the store. Some customers will come in and purchase 20 or 30 cards at a time and stock up. The Pink Polka Dot carries a lot of very unique artisan cards that are hand made and can not be found anywhere else locally. A favorite happening for Jen is when it is really quiet in the store and she will hear a customer over viewing the cards start laughing at a saying captured in a card and then say "these are the best cards".
Unique Offering – The Pink Polka Dot offers personalized stationery as well as personalized invitations. There really isn't any other location in upper cape cod where you can get personal invitations created based on your color scheme and interest for as few as ten custom invitations to several hundred custom invitations. They provide custom birthday party invitations, retirement invitations, wedding invitations, baby shower invitations etc.
The store also offers a wedding boutique area with numerous ideas and gifts for bridesmaids and groomsmen. The wedding planning area at the store has a wide display of items such as favors and invitations as well as a sample table setting reflecting how you can carry your design color and theme through to your table setting and linens starting from your wedding invitation.
A new line of product they will be carrying in 2015 will be custom stamps such as address stamps and embossers.
Interesting Trivia –
The Pink Polka Dot has achieved the award for The Knot Best of Wedding Planning for 2012,2013,2014 and 2015 and was inducted into The Knot Best of Weddings Hall of Fame in 2015.
The floor in The Pink Polka Dot is the dance floor from the old Hunt Club which was a night club in Falmouth in the 1970's.
The Pink Polka dot was the wedding planner for a Kennedy wedding in Hyannisport in 2012.
General Information
– The Pink Polka Dot is open year round with summer hours daily of 10-6. Winter hours are Monday – Saturday 10-5:30 and on Sunday from 11-3. Winter hours are Monday-Saturday 10-5:30 and closed on Sunday.
January 10, 2015 by Trish Robinson
A Valentine's Day Getaway at The Captain's Manor Inn might be just the treat you are looking for in the cold days of winter.
When you arrive for your getaway you will find a special box of handmade chocolates from local chocolatier ,Ghelfi's Candies, and a long stem rose in your guestroom. You can also select to add a premium romance package or other goodies to your booking.
The beauty of Falmouth Cape Cod in winter is that the town is open year-round. You can enjoy a stroll down Main Street in Falmouth Village and take advantage of the many unique boutique shops where valentine specials will be readily available.
Maybe you are looking for a new outfit for your valentine dinner….perhaps Port Cargo, Treasure Chest, or Green Eyed Daisy will have the outfit for you.
It might be a unique candle, piece of art, jewlery, pottery or other gift is what you are after ……check out such great shops as Vagabond Treasures, The Pink Polka Dot, Twigs, Touche, Celebrations to name a few. After your shopping stroll stop in at any of several restaurants like Stone L'Oven or Bear in Boots Gastropub for lunch.
Now it might be time to walk off your lunch and it is a wonderfully peaceful time to walk and perhaps take in Falmouth Harbor or Surf Drive Beach or any of the many walking trails by such locations as Spohr Gardens, Oyster Pond or Beebe Woods by Highfield Hall and Gardens.
Come on back to the Inn to relax and get ready for a romantic dinner at The Glass Onion or CSalt restaurants. There are a number of other options for dinner such as La Cucina Sul Mare or Anejo Mexican Bistro.
The most important part of all is the special quality time with your sweetheart away from the hustle and bustle of everyday life and obligations.
Whatever you do we wish you a wonderful Valentine's day!
December 3, 2014 by Trish Robinson
Holidays by the Sea is once again promising to be a fun filled weekend in Falmouth Village.
The festivities officially being on Friday December 5th at 5:30 with a carol sing at the iconic Nobska Lighthouse. Hot chocolate and cookies will be on hand to fuel you for participating in the festive seasonal sing along.
At a very reasonable 9:30 am on Saturday December 6th you can join in on the 3rd annual Jingle Jog 5K sponsored by Dunkin Donuts and Anytime Fitness. Festive outfits are actually encouraged for the race and our very own son-in-law donned a Santa outfit a couple of years ago. The Elf Run for participants 12 and under starts at 9:30 and the Jingle Jog for those 13 and over starts at 9:45.
After joining in the race or just cheering on the runners you can head over to Marine Park at Falmouth Harbor to welcome Seafaring Santa! The Falmouth High School Chorus will be on hand singing Christmas carols. All are invited to join in the activities of  the annual children's bike raffle, hot chocolate & treats courtesy of Dunkin' Donuts.
Also on the 6th at noon there is a public viewing of the Nobska Lighthouse which is sponsored by the Coast Guard Auxiliary and goes unti 2 pm. As a little incentive we share that Santa visits at 12:30 pm!
After a little afternoon rest get ready for the Holiday Stroll along Main Street and Queens Buyway. Hop on the trolley to the Falmouth Historical Society for a visit with Santa until 6:30. There will be face painting by Mrs. Claus, along with hot chocolate and cookies. The Falmouth Historical Society will also have additional craft activities for the kids. Take the trolley to the Queen's Buyway, and visit the Petting Zoo! (In the courtyard behind Cape Chic and Pink Polka Dot from 5-6:30) Enjoy live music by the Donnie Cross Trio at Headlines on Main Street. The movie Frozen will also be streaming throughout the evening at Peg Noonan Park. Also keep a look out for Elsa and Anna! The Very Merry Dickens Carolers and the Falmouth High School Band will perform along Main Street. Ride the Trolley down Main Street while the Falmouth High School A Capella Group sings Holiday songs! Just look for the trolley stop signs. Snacks and refreshments can be found at your favorite local shops! Information cards will be available at most Main Street Shops.
The official festivities conclude on Sunday December 7th with the 51st annual parade. The Parade starts at noontime at the Falmouth Mall and proceeds down Main Street to the Village Green. Our parade is Southeastern Massachusetts' largest holiday parade with theme decorated floats, marching bands, live animals, costumed characters and Santa Claus!
June 15, 2012 by insideout
We had a lot of fun yesterday working with Luke the videographer and Marti Mayne of Maynely Marketing as they came to Falmouth to create a video for the Falmouth bed and breakfast association.  Our video will include footage from several of Falmouth's bed and breakfasts and will be part of a national campaign called a Better Way to Stay.  The campaign is part of an effort by The Professional Association of Innkeepers to educate consumers on the wonderful bed and breakfast options available to travelers.  Some still photos from the video shoot are included here for you.  Special thanks to Jen Chagnon of The Pink Polka Dot and her husband Jared for being great sports as models for the video!!