Falmouth Village Blooming is an experience you don't want to miss! From April 30th-May 9th, Falmouth Village welcomes warmer weather with spring time activities galore! After a long, cold winter, the town of Falmouth is more than excited to shift gears and start preparing for all of the wonderful things that come with spring. Village businesses band together to congratulate everyone on making it through another winter with events, restaurant specials, and retail discounts.
An example of a Flower Power Special would be Cupcake Charlies offering a free cupcake with every 3 purchase and a Blooming Bargain example is 20% off jewelry at the Celebrations store during Falmouth Village Blooming.
Saturday, April 30th will kick off Falmouth Village Blooming and village shops will display their "May Baskets" on the sidewalk in front of their store. We've had some exceptionally creative displays in the past. Here are a few that stood out to us:
Like this one from Bear in Boots Gastropub, a restaurant specializing in homemade comfort food from around the world. Their basket contained delicious herbs and wine corks, two of the things that make a night at Bear and Boots deliciously memorable: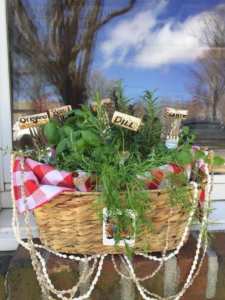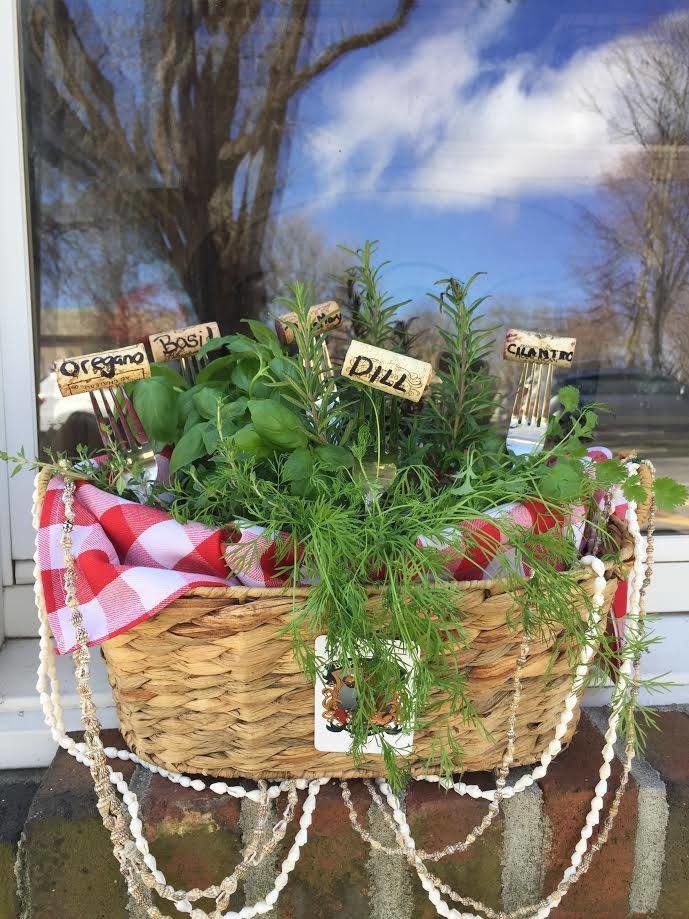 Here's the submission from Pink Polka Dot, winner of most original basket. It's no surprise that Jen incorporated beautiful paper flowers as this shop offers a large selection of artisan greeting cards, distinctive paper goods and unique gifts.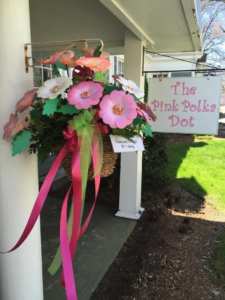 There was no way we were missing out on the fun! Our basket included two harbingers of spring perched atop greenery and fresh flowers. We loved watching passerby stop to take a photo with our display.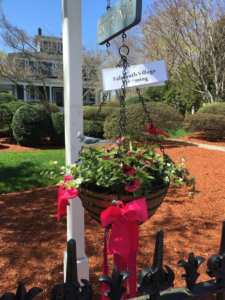 The most fun part about the May baskets? You get to decide the winner! Vote by liking, sharing, or commenting on the photo of the basket that you think is the best, and on May 8th, all of the votes will be tallied and the winner will be announced May 9th. Strolling around the village looking at all of the beautiful baskets is one of our favorite parts of the spring here in Falmouth!
Highfield Hall and Gardens celebrates its welcome back weekend with an open house full of amazing events. Take a tour of the Ice House, built next to the kitchen garden where the Beebe family used to store their food, and serve chilled drinks and ice cream. What an appropriate tour to take to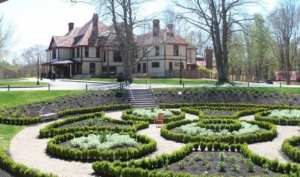 welcome the warm weather! Tour the outdoor estate and learn about the property as well as the history – the team and Highfield will transport you back in time with their recount of what life was like during the 1870's when the property was commissioned to be built. Robert Wyatt will play his favorite songs of spring after the artists reception which will feature 'The Language of Flowers' by Heather Blume. What May Day festivities would be complete without a May pole celebration? Not this one! Take part in the tradition of dancing around the May pole to usher in the new season. This year, for the first time ever, the groundskeeping crew at Highfield will get a little help – from goats! The adorable farm animals will munch on invasive plants and poison ivy, providing a natural, symbiotic solution to unwelcome plant life! Goatscaping will take place all day on May 1st.
In the mood for a margarita? Anjo's Mexican Bistro livens up Main Street every Cinco de Mayo with an unforgettable fiesta outdoors. They close down the street next to the restaurant to accommodate live music, an outdoor bar, and of course – delicious food! In addition to $5 margaritas, Mexican style beers and burritos, the crew at Anejo's will be offering prizes and giveaways all day long. This is one of Falmouth's favorite festivities, and you're officially invited!
Every year during Falmouth Village Blooming, the Falmouth beautification council hosts its annual plant sale on the green. This is a great opportunity to get supplies for window baskets, outdoor gardens and indoor arrangements. Take a bit of spring home with you as a souvenir!
From April 30th-May 9th you can enjoy bloomin' bargains at local retail shops and flower power specials inspired by the spring at village restaurants. The best part about the celebration? It's all taking place steps away from your room at The Captain's Manor Inn. Once you arrive, you can leave your car keys in your room for the duration of your stay. All of the participating restaurants and shops are right down the street. We'd love for you to enjoy this year's Falmouth Village Blooming at The Captain's Manor Inn.