April 9, 2013 by insideout
A nice half day trip while staying at The Captain's Manor Inn is exploring Woods Hole Village a mere 3 miles down the road.  This   quaint seaside village and is home to the internationally acclaimed Woods Hole Oceanographic Institute (nicknamed WHOI) and the Marine Biological Laboratory (MBL) which is an international center for research, education, and training in biology.
Take a leisurely walk or bike ride down the Shining Sea Bikeway or hop on the Falmouth SWOOSH trolley to travel the 3 miles to the Village.  Enjoy a walk down Water Street for some window shopping or to check out the famous popovers at Pie in the Sky Bakery or the lobster tacos at Quicks Hole.
Some of must sees are:
Woods Hole Oceanographic Institution
MBL's Marine Resources Facility
February 11, 2013 by insideout
It has been a very busy few days especially since we were supposed to be closed.  We fortunately did not lose power so we opened up to provide rooms for a number of past guests, family, and local neighbors who lost power.  In addition NSTAR had contacted us and we housed 5 NSTAR workers some of whom had traveled for days from Tennessee to help our neighbors in Massachusetts.
Yesterday we decided to go for a walkabout and take some pictures to share.  My daughter Laura and my son's dog Gus accompanied me on the walkabout. One great idea we had was to go for part of our walk on the Shining Sea Bikeway which as you will see in the pictures started out plowed but that ended and we got a good leg workout trudging through the snow and drifts

Wishing everyone restored power soon and back to the normalcy of winter in New England.
July 14, 2012 by insideout
We are pleased to share that we have a new offering thanks to the newly established organization Electric Ride in Falmouth.  We all know that a long bike ride for some is quite enjoyable where for others who love to go and enjoy the scenery and exercise they tire after several miles.  Now there is a solution for that.  Rent an electrically assisted bicycle and enjoy the ride!  What better way to fully conquer our beautiful Shining Sea Bikeway and go the entire 10.7 miles.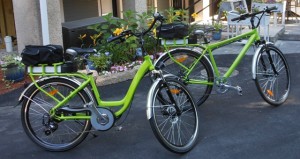 April 23, 2012 by insideout
What a great morning for a walk.  Decided to go to Woods Hole which is a 3.5 mile walk from the Inn.  Although it was a bit overcast it did not seem to bother the ospreys and other critters out an about.  One of the great things about a walk down to Woods Hole is that once you get there you can turn around and walk on back (after a treat at Pie in the Sky) or you can decide 3.5 miles was enough and hop on the Steamship Authority shuttle bus and hop a ride back to the parking lot just a short half mile stroll from the Inn.  Guess what we did

July 26, 2011 by insideout
Many of our guests at The Captain's Manor Inn enjoy the outdoors during their time in Falmouth, Cape Cod.  Outdoor activities include hiking spots such as Beebe Woods or Spohr Gardens, biking on the Shining Sea bikeway, walking the village main street, swimming over at Surf Drive beach and kayaking.  Cape Cod Kayak located in the village of Cataumet in Falmouth has been a favorite of our guests in terms of equipment rentals and tours.  So next time you visit perhaps you might like to try a new outdoor adventure and head over to Cape Cod Kayak to see some of our beautiful seashore from a new angle.
click here for Cape Cod Kayak's site