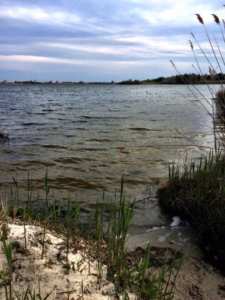 For many who only know Cape Cod as it relates to sunning on the beach, Cape Cod might not seem like the obvious place for a nature hike, but there are 5 great hiking experiences in upper Cape Cod. Whether you are experienced on the hiking trails or you just want to get some fresh air and a nice walk, there is a trail to meet your needs. Below is information on 5 trails in the upper Cape area rated from under a mile in length to over 3 miles from start to finish.
1. Salt Pond: This trail serves as one of the best places to bird watch in Falmouth. It sits on 35 acres of woods and surrounds the pond itself. As a well maintained, simple trail this is perfect for your afternoon walk. Salt Pond can be accessed right off the shining sea bikeway heading towards Woods Hole. Click here for trail map of Salt Pond.
2. Spohr Gardens: Spohr Gardens stretches across 6 acres of land located on Oyster Pond. The gardens are open year round with a special focus on springtime when daffodils bloom and attract crowds to come out and celebrate. The winding grassy paths make it a perfect trip for people of all ages to enjoy the beautiful sights and activities Spohr Gardens has to offer. Access is available of off Fells road in Falmouth.
3.The Knob: Stretching just under one mile to the top, The Knob is a great excursion with an added bonus of spectacular views of Quisset Harbor and Buzzards Bay. As you are walking up to the knob you may stop to swim and enjoy the beach.  Cornelia L. Carey donated 12 acres including the knob to Salt Pond Areas Bird Sanctuaries in the early 1970s in the hopes that the public would enjoy the beauty of this nature preserve.The Knob is open to the public from sunrise to sunset and is one of the top spots on the upper cape to view incredible sunsets. Click here for some information and a trail map of The Knob. Also check out the great drone video below done by local Falmouth business Skyflik.
4.Beebe Woods: Head to Highfield Hall and Gardens and you will find trails with a little more difficulty than the previous three options. Highfield Hall and Gardens is set in Beebe Woods which consists of 383 acres of land that was donated to the town of Falmouth by the Mr. and Mrs. Josiah K. Lilly, III in 1972. This 383 acres is part of an original 700 acres of property owned by the Beebe family. The trails and setting at Beebe Woods are perfect for any individual in need of some fresh air and a good work out. There and back, Beebe woods is just over 3 miles.  Another Bonus of Beebe Woods is the trails that link to Peterson farm, one of the oldest farms on cape cod. To head out into Beebe woods you must keep a special eye on where you are walking due to many irregular hills and pot holes ! To see and or print a copy of the map of trails for Beebe Woods you can click on this link by The 300 Committee which is a private, non-profit land trust working to preserve and protect natural lands in Falmouth, Massachusetts.Other than the beautiful nature the woods possess, the shining star of the area would be the restored mansion Highfield Hall, which is available for tours.

5. Long Pond: With a total distance of 3.5 miles, Long Pond serves as the most difficult trip of all the trails listed above. To gain access to Long Pond, you may enter by Falmouth High School or Fire tower road, which the trail stretches in between. Once popular with fisherman, unfortunately access to the pond is now off limits. The northern side of this trail consists of many steep slopes keeping walkers, runners, or bikers on their feet! Fun Fact: Long Pond has been the main source of town water since the 1800's.  Click here for link for trail map of Long Pond
With this small list of great hiking trails on Upper Cape Cod, we hope to motivate you to get out there and enjoy the start of summer for some great exercise and awesome sights.