Color Giclee Print of the Inn
$40.00 – $75.00
The print is 8″ in width by 8 1/2″ in height and has a backing that is 9″x 9 1/2″. You can order the print by itself or you can order the print framed with an off white mat and frame. The style framed is shown below.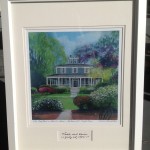 Description
Enjoy a color giclee print of the Inn. This is a very popular gift for guests who are celebrating anniversaries, birthdays, or honeymoons. Renowned local artist, Karen Rinaldo, spent a great deal of time capturing all the colorful flowers and shrubs surrounding the Inn during the spring as she captured the essence of the property. We also have a pen and ink giclee print that Karen has created. Our guests love to visit Karen's art studio located at the end of Falmouth Harbor. They will see Karen at work on original commission and she is very happy to talk with you and share her work. In addition to her vast work on iconic buildings in Falmouth and nature scenes she was commissioned by Plymouth Plantation to paint the original Thanksgiving and they have it on display. She was also honored to paint the centennial celebratory picture of the Boston Red Sox.
Only logged in customers who have purchased this product may leave a review.