Dates Offered:
01/02/2019
-
01/03/2019
Pricing Details:
$125 added to any guestroom
Come away to scenic Cape Cod for your next getaway. Stay at the top rated Captain's Manor Inn in Falmouth Village and experience a unique one on one artistic adventure. Exploring Watercolor One on One is a unique artistic experience with established artist Karen Rinaldo.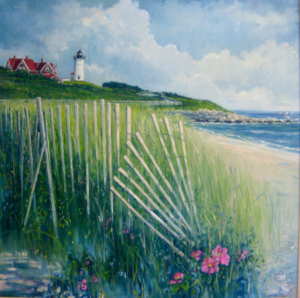 Your Package Includes:
Your Exploring Watercolor One on One can be added to any of our guestroom bookings and includes an afternoon session with acclaimed artist Karen Rinaldo. You may chose to paint in Karen's studio facing Falmouth Harbor where there is a bit more control over conditions. However, when weather permits going out on location can introduce you to some beautiful scenery in our coastal town of Falmouth. Customers have noted some favorite outdoor locations as grounds of The Captain's Manor Inn, Falmouth Village Green and Knobska Lighthouse.
Your session will start at 1:00 pm and complete at 3:30 pm. The afternoon session will include a demonstration, with emphasis on composition and exploration of various techniques. In addition, you will receive all materials needed for the session and any level of experience is welcomed. Finally, you will complete the session with your very own composition which you can complete on your own or even arrange another visit with Karen. Your cost for this unique one on one artistic package is $125.00.
About Karen
An incredible artist, Karen Rinaldo has made Falmouth her home for over 40 years. Karen is well known for her landscape and seascape paintings of Cape Cod as well as some historically significant events she has captured. Fans of the Boston Red Sox were favorably impressed that in 2012 Karen was selected to commemorate the 100th opening day of the Boston Red Sox at iconic Fenway park. Also, in the early 90's Plimouth Plantation leadership asked Karen paint an historically accurate 1621 First Thanksgiving. This painting continues to be on display at the museum.
Filed under: Adventures and Unique Experiences, Art Workshops, Girlfriend's Get Away, Rest and Relaxation
Select an offer type to see other similar offers