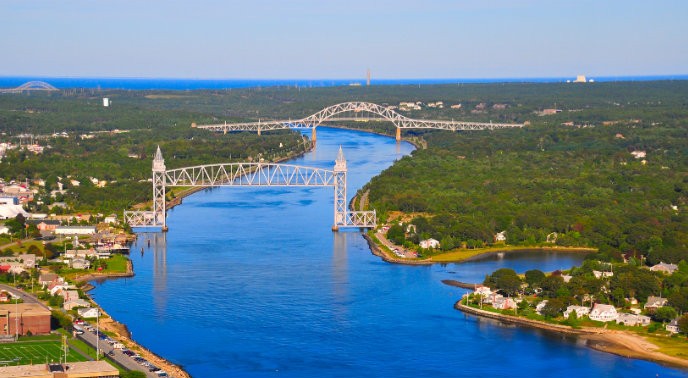 Cape Cod Canal Centennial Celebration activities are well underway with concerts, boat parades, maritime exhibits, fireworks, tall ships and more!
There have been a lot of events that have been underway since July 25th with major activities today which marks the official US Army Corps and Canal Centennial Dedication Ceremonies.
You can tour the T S Kennedy ship today from 9am to 5 pm at the Massachusetts Maritime Academy.T S Kennedy was originally built in 1964 and renamed T S Kennedy in 2001 in honor of the Kennedy family. The T S Kennedy served for over 20 years including several tours to the Persian Gulf as part of the First Gulf War and in 2001 it was moved to Buzzards Bay, MA for use as the training ship for the Massachusetts Maritime Academy. Most recently the ship was deployed to New York Harbor in support of Hurricane Sandy relief efforts with a mission of housing first responders and FEMA personnel.
You can also tour the tall ship Kalmar Nyckel from 9am to 5 pm today and the Schooner Mystic Tall Ships all tours are at the Massachusetts Maritime Academy.
At 4 pm the Tugboat parade begins and will wind through the entire Cape Cod Canal and about 12 tugboats are expected to participate.
The official Canaliversary celebration also starts at 4 pm with concerts , games , antique cars and more culminating in a spectacular fireworks show over the railroad bridge starting around 9 pm. David Mugar and B4 productions who have put on some of the most fabulous fireworks shows will be producing the show.