This summer, a renowned Japanese art show will exhibit on Cape Cod and we could not be more excited. Kanreki: A 60 Year Journey will be the 60th anniversary installment of the College of Women's Association of Japan's Print Show of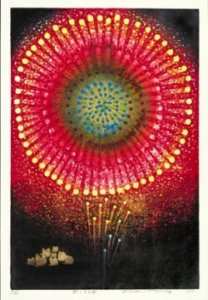 Contemporary Japanese Prints. Highfield Hall & Gardens will display over 200 contemporary Japanese prints by established and emerging artists. All of the beautiful prints that will be displayed have been hand selected by international printmaking experts in Japan. The works feature many ancient Japanese print making techniques like woodblock, intaglio, lithography, etching, aquatint, silkscreen and more. Highfield Hall's Director, Peter Franklin, had the honor of traveling to Japan and meeting Her Imperial Majesty, the Empress MIchiko while attending opening night of the exhibit in Tokyo.
It's truly an honor to have such a renowned cultural event happen right in the town of Falmouth. T
he show debuted in Tokyo, and this year Highfield Hall & Gardens is the exclusive U.S. venue! Come enjoy a piece of ancient history in one of the most beautiful locations on the Cape. Proceeds from print sales will support Highfield Hall's programs as well as the CWAJ scholarship fund. Individuals who are interested in purchasing prints from the exhibition may contact Annie Dean from Highfield Hall.
The show will be running from June 26 – September 14 and there will be an open reception on Sunday, June 26 from 1pm-3pm. As mentioned earlier,her Imperial Majesty, the Empress Michiko attended opening night of the exhibit in Tokyo, and the town is already buzzing about who may show up come June. You don't want to miss this very special Japanese art show on Cape Cod!
June 26 – September 14  2016
A new update is that highlights from the exhibition will remain on display through October 31, 2016