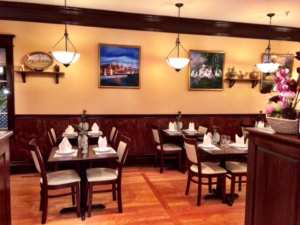 Thai food in Falmouth now offers a new location for you to experience delicious thai food. Bangkok Cuisine Thai Restaurant was a favorite of locals and visitors alike until a neighboring business had a fire  destroying  both businesses. Fast forward four years and Bangkok Cuisine makes a comeback to Main Street in Falmouth Village.
Location:
Just down the block from Bear and Boots Gastropub and across the street from Falmouth Public Library you will find the new home for Bangkok Cuisine. Just a few minutes stroll from the Inn and you will arrive at 233 Main Street for lunch or dinner.
Menu:
The menu includes appetizers, soups, salads, entrees, noodle dishes and fried rice.
Our favorite menu items are :
Appetizer – 
Fresh Rolls – Soft rice paper stuffed w/ vegetables & chicken served w/ sweet & chili sauce
Chicken Satay –Marinated in coconut milk & Thai herbs served w/ peanut sauce
Soup – 
Tom Ka Kai  – Chicken in coconut milk w/ galanga, lime juice & mushroom
Salad-     
Bangkok Salad – Lettuce, carrots, onion, cucumber, tomato, boiled egg w/ peanut dressing
Entree-      
Chicken Cashew Nut – Chicken with sauteed onion, scallion, mushroom, pineapple & bell pepper
Noodle Dish–
Thai Spaghetti– spicy noodle dish stir-fried w/ egg, chicken, shrimp, tomato, pepper, scallion & basil leaf in medium spicy sauce.