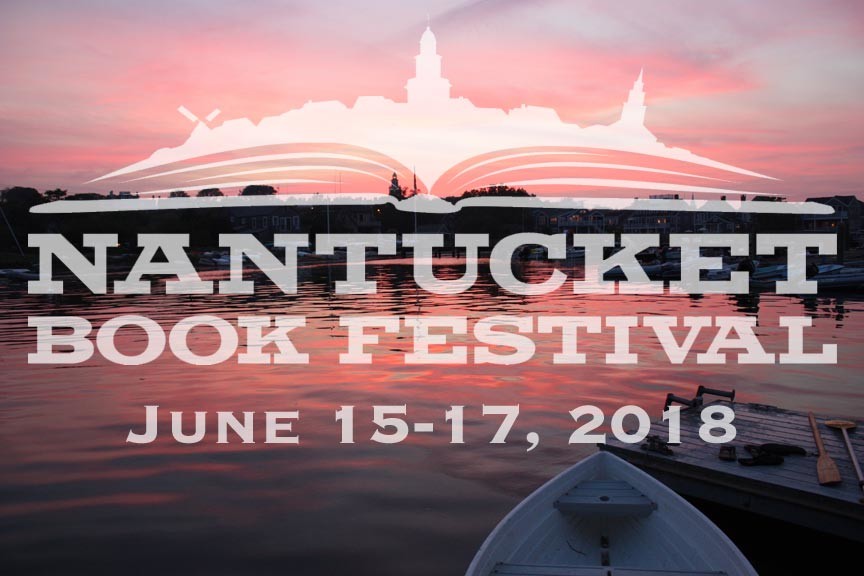 The 7th annual Nantucket Book Festival, scheduled for the third weekend in June, should prove irresistible to bibliophiles with its impressive and eclectic line-up of award-winning authors and literary events. June 15th, 16th, and 17th, 2018.
This year's Nantucket Book Festival looks more exciting than ever with a host of different events and reasons to attend. Author readings, panel discussions, and informal social events designed to encourage conversation between writers and readers.
The list of attending authors should be enough to attract any self-respecting book lover. Mystery writer, Louise Penny will be on hand, as well as National Book Award winner Andrew Solomon. Min Jin Lee, national bestselling author of "Free Food for Millionaires" and "Pachinko," will also attend. Other notable attendees include Joe Hagan, Nathaniel Philbrick, Alice Hoffman, Elin Hilderbrand, and Diane Ackerman.
Participating authors represent a broad swath of genres and subjects. Mysteries, the sciences, memoirs, history, poetry, biography, cooking, and more will be represented. A full list of attending authors is available on the Nantucket Book festival website.
The number of events one could attend throughout this literary weekend is almost overwhelming. They've even added a few to the 14th, making it a 4-day festival! Better yet, most of the events are free and held within walking distance of the ferries.
Nantucket Book Festival 2018 highlights include:
Authors in Bars – June 14, 9pm
Your chance to rub elbows with the authors, over drinks, at the Nantucket Hotel.
Opening Night Celebration: Difference is What Unites Us – June 15, 7pm
Kick off Nantucket Book Festival 2018 with authors Andrew Solomon, Imbolo Mbue, and Min Jin Lee as they speak about our shared, common humanity from their different perspectives.
Author Dinner at the White Elephant – June 15, 7pm
Enjoy a sumptuous buffet dinner overlooking the harbor while rubbing elbows with almost 30 authors. This special dinner is the only fundraiser for the Nantucket Book Festival.
Louise Penny & Linda Fairstein: Chewing on Life's Mysteries – June 16, 11:30am to 2pm
Louise Penny and Linda Fairstein both happen to be two writers and good friends. Come hear their exciting conversation at this literary luncheon held at The Nantucket Hotel and Resort.
Nat Philbrick: On Wind and Wave at Harborside – June 17, 9am
Come meet author Nat Philbrick at the White Elephant Brant Point Grill and hear how he came to find himself vying for a sailing championship in the Sunfish class 15 years after he thought he'd quit.
Cisco Brewers Send-Off – June 17, noon
Close-out your Nantucket Book Festival weekend with this celebratory send-off at Cisco Brewers. Great food, drink, and live entertainment plus one more chance to meet and greet the festival authors.
Other highlights for the weekend include storytimes for children and poetry on demand from The Typewriter Rodeo. An outdoor tent in the Nantucket Atheneum garden will host local authors selling and signing their books throughout the weekend.
Nantucket Book Festival 2018
June 15-17, 2018
Visit the Nantucket Book Festival online for a full schedule, tickets, and more. You can also follow the event on Facebook.
Nantucket Book Festival Lodging
The Captain's Manor Inn is a Cape Cod Bed and Breakfast located in Falmouth Village, just a short stroll from some of Cape Cod's best restaurants, shops, museums, and galleries. We offer 7 guestrooms with private baths set on over an acre of meticulously manicured gardens. Make your Cape Cod getaway the best it can be with a stay at The Captain's Manor Inn!