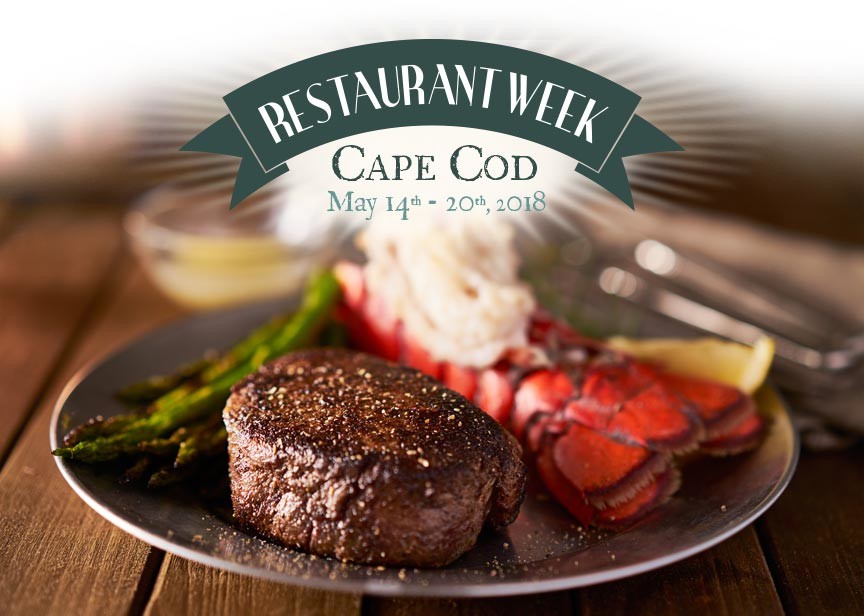 The annual spring session of Cape Cod Restaurant Week 2018 is here! Come experience great food at some of Cape Cod's finest restaurants – and at an affordable, fixed price rate! May 14th through May 20th, 2018.
If you're a fan of good deals on great meals, you do NOT want to miss Cape Cod Restaurant Week 2018! The bi-annual event sees the best restaurants, from Falmouth to Provincetown, offering 3 and 4-course exhibition menus for as little as $25 to $35! Wow!
The list of participating restaurants includes Captain Linnell House, Ocean House Restaurant, Fin, Buca's Tuscan Roadhouse, and more. The list reads like a who's who of Cape Cod's finest dining establishments.
As you're likely aware, Cape Cod is known for its incredible dining scene. Foodies travel from all over to sample our area's dishes. Now you can experience Cape Cod's vast culinary talent at an affordable price! There's only one other place you'll find as wide a selection at these prices … the fall session of Cape Cod Restaurant Week 2018!
Cape Cod Restaurant Week 2018
May 14th and running through Sunday, May 20th
Read more at www.capecodrestaurantweek.com. You can also follow the event on Facebook.
Paratore Duo-Pianists at Highfield Hall
May 20th, 2018, 4pm to 6pm
Highfield Hall and Gardens offers yet another great reason to visit Cape Cod in May: Duo-Pianists Anthony and Joseph Paratore!
Anthony and Joseph Paratore are recognized as one of today's foremost keyboard duos. Their 30+ years of performing on the international stage has brought their art to the highest level. Two classical pianists, four hands, one piano and an unforgettable performance.
This is one special performance you do not want to miss! Combine the evening with a meal at a participating, Cape Cod Restaurant Week restaurant! May 20th, 2018, 4pm to 6pm at Highfield Hall and Gardens.
Highfield Hall and Gardens is a historic landmark and cultural center in Falmouth, MA. Highfield Hall presents special events each year from April 15th to October 31st. The historic mansion, spectacular gardens, and 400 acres of nature trails, are well worth your attention. Learn more at highfieldhallandgardens.org.
Cape Cod Lodging
Captain's Manor Inn is a romantic Cape Cod Bed and Breakfast located in Falmouth Village. Choose from 7 guestrooms with private baths, enjoy our Café refreshments, and relax on our 2000 square foot, wrap-around veranda. Let us help reveal the wonders of Cape Cod for you. Book your stay at The Captain's Manor Inn today!