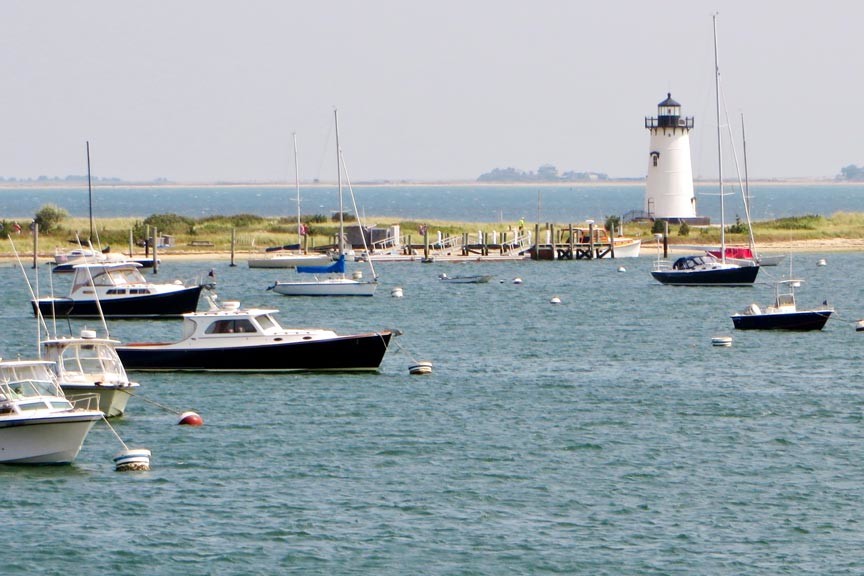 One of the most popular activities for visitors to Falmouth has to be taking a Martha's Vineyard day-trip. And why not? It's only a ferry-ride away!
Martha's Vineyard is known for its beaches, lighthouses, carpenter gothic cottages, shopping, seafood, breweries, sightseeing, and more. Historic harbor towns and farmland make up much of this longtime, New England summer colony. Martha's Vineyard is located in the Atlantic, some 20 miles south of Falmouth, reachable by air or water only.
Luckily, that's a non-issue with regular ferry service. Better yet, The Captain's Manor Inn is less than five minutes from the ferry terminal – and there's even a free shuttle service to the ferry. How very convenient for your Martha's Vineyard day-trip!
Martha's Vineyard Day-Trip from Captain's Manor Inn
The ferry ride from Woods Hole is only 45 minutes long and you can choose your either "Oak Bluffs" or "Vineyard Haven" as your destination. Vineyard Haven, on the east end of the island, is a ferry port and the island's commercial center. Oak Bluffs is known for its gingerbread/carpenter gothic cottages and the Flying Horses Carousel, among other things.
If you plan to take your car over on the ferry, you will need to purchase your tickets in advance. Walk-on passengers can buy their tickets at the terminal upon arrival without reservation.
Martha's Vineyard is easy to explore. There are many ways to get around the island, even if you didn't bring a car. A day pass for the Martha's Vineyard transit authority is only $8, for example. You can also rent mopeds, bicycles, or even a car.
A variety of tours are also available. Many first-time visitors take a tour of the island directly after debarking the ferry and use the rest of the day to explore on their own.
Martha's Vineyard Day-Trip Sample Itinerary
(this itinerary assumes an Oak Bluffs starting point)
8am – Breakfast at The Captain's Manor Inn
8:50am – A short walk from The Captain's Manor Inn to the free Steamship Authority ferry shuttle
9:30am – The ferry departs from Woods Hole
10:15am – The ferry arrives in Oak Bluffs, Martha's Vineyard
10:30am – Depart on a Martha's Vineyard sightseeing tour
1pm – Arrive back in Oak Bluffs following the tour
1:15pm – Enjoy lunch at Nancy's overlooking Oak Bluffs harbor
2:30pm – Enjoy a self-guided tour of Oak Bluff. Explore the carpenter gothic houses by the Tabernacle and visit the beach
4pm – Take Bus #13 to Edgartown
4:15pm – Explore Edgartown's shops and beautiful historic homes
6pm – Enjoy dinner and drinks at Atlantic on Edgartown's harbor
7:45pm – Get back onboard Bus #13 for Oak Bluffs
8:15pm – Take the return ferry back to Woods Hole
Of course, your Martha's Vineyard Day-Trip may take a very different tack. No matter what it is you want to do, The Captain's Manor Inn is here to help! Just let us know what you'd like to do and we'll help plan so you can make the most of your Cape Cod getaway. Book your stay at Captain's Manor Inn today!