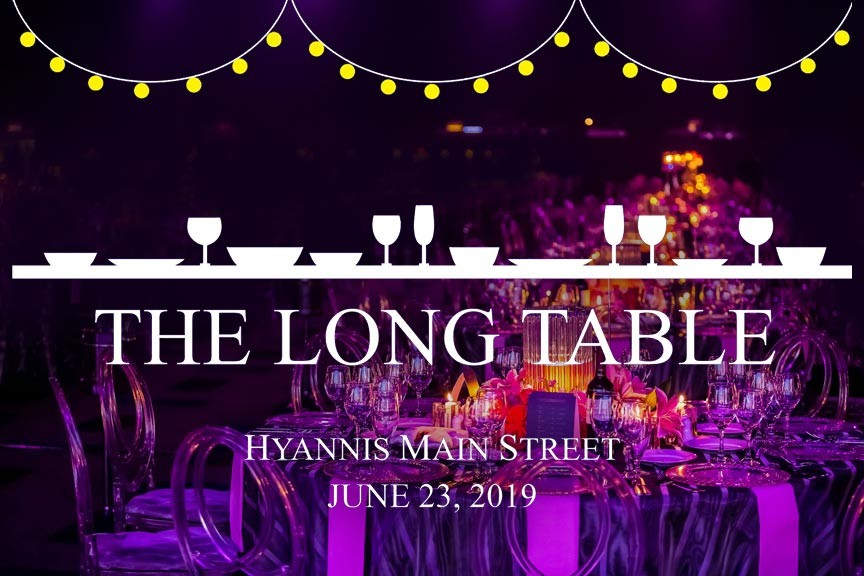 Get set for Hyannis Long Table 2019! Long Table is the annual, four-course dinner party held down the middle of Main Street and featuring offerings from some of the area's best, locally owned restaurants. June 23, 2019 in Hyannis, MA.
Hyannis Long Table is always a magical event but 2019 is likely to prove even more so. That's because 2019 marks the first time that this event will be held in the middle of Main Street.
During Long Table, each restaurant offers their own, carefully curated, four-course menu. Each course is paired with a wine, beer, or cordial for a perfectly balanced flavor palette.
Over 500 guests are expected for this evening of delicious food and fabulous entertainment. Come join in!
Hyannis Long Table 2019 Restaurants
Hyannis is home to some of Cape Cod's best restaurants and a baker's dozen have signed on for this amazing evening.
Alberto's Ristorante
Anejo Mexican Bistro
Brazilian Grill
British Beer Company
Colombo's Cafe
Downtown Bistro
Embargo
Naked Oyster
Pizza Barbone
Rendezvous Cafe
Tap City Grille
Torino Restaurant and Bar
The West End
View the collected 2019 Long Table menus. Make your reservations for the evening directly through the restaurant of your choice.
People's Choice Tablescape Contest
One of the most fun aspects of Long Table are the tablescapes. Each restaurant decorates their table for the event – and you can vote for your favorite. Peruse the each table during the cocktail hour, then vote for your fave by posting a picture of it on Facebook or Instagram, tagged: #LongTablePeoplesChoice.
Long Table 2019 Schedule
The evening begins with a cocktail party, followed by dinner, then voting for your favorite table decor.
Check-in & Cocktail Hour – 5pm to 6pm
Seating, Welcome, and Grand Toast – 6:15pm
Dinner – 6:30pm to 8:30pm
Tablescape Winner Announced – 7:30pm
Hyannis Long Table 2019
Sunday, June 23rd – 5pm to 8:30pm (rain date: Monday, June 24th)
Held on Hyannis Main Street, from Ocean Street to Winter Street, Hyannis, MA
Visit www.hyannismainstreet.com for more information about this event. You can also follow the event on Facebook.
Cape Cod Lodging
No matter what draws you to Cape Cod, the quality of your accommodations can make or break your getaway. The Captain's Manor Inn is a romantic Falmouth bed and breakfast offering delicious breakfasts, seven plush guestrooms and suites, and a fun selection of lodging packages. Book your stay at Captain's Manor Inn today!