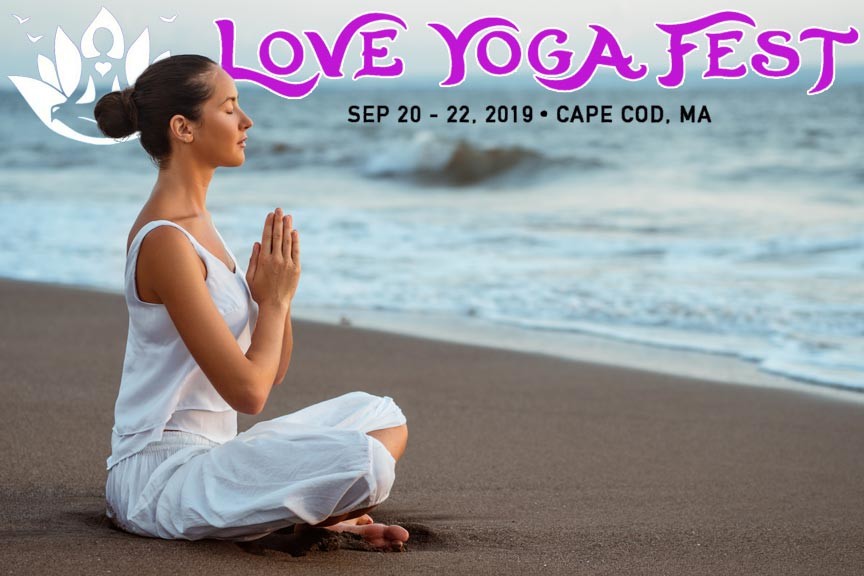 Come celebrate a weekend of wellness and renewal in Falmouth, MA at Love Yoga Fest 2019. The annual event brings presenters, performers, and vendors to Cape Cod from around the country. September 20th through the 22nd, 2019.
Love Yoga Fest, aka "LYF," has been bringing wellness-minded individuals to Cape Cod for the past five years and shows no sign of stopping any time soon. In fact, each year has been a little bit bigger and better than the last. Part of the draw has to be the event location, Old Silver Beach in Falmouth, one of the most beautiful places in the world!
The festival includes wellness talks, classes, live music, and – of course! – yoga. Festival topics include ayerveda, meditation, self care, self empowerment, guided breathwork, mudras, anatomy, vinyasa, and more. Students of all levels will enjoy the festival yoga classes. Best of all, attendees can design the weekend around their own needs and interests.
This year's festival includes more than 30 presenters, musicians, and artists. People and groups known for making a difference in the world and bringing people together. This year's featured guests include Seane Corn, Girish, East Forest, Todd Norian, Coral Brown, DJ Mantra, Amy Leydon, Lauren Toolin, and Sami Lea Koncewski.
Love Yoga Fest Lodging
Captain's Manor Inn is located right here in Falmouth, just 15 minutes or less from all the fun at LYF 2019. We're also just a short stroll from some of Cape Cod's best restaurants, shops, museums, galleries, and nature spots like Beebe Woods, The Knob, and the Shining Sea Bikeway. Choose from 7 luxurious guestrooms with private baths, spa robes, individual air controls, a full multi course breakfast, and more. Book your stay now, while there are still rooms left.
Love Yoga Fest 2019
September 20th – 22nd
350 Quaker Road, North Falmouth, MA 02556
Come practice yoga, learn more about health and wellness, and join in a fun and safe community of students, presenters, performers, and organizers. Visit the festival website and Facebook page for more information.