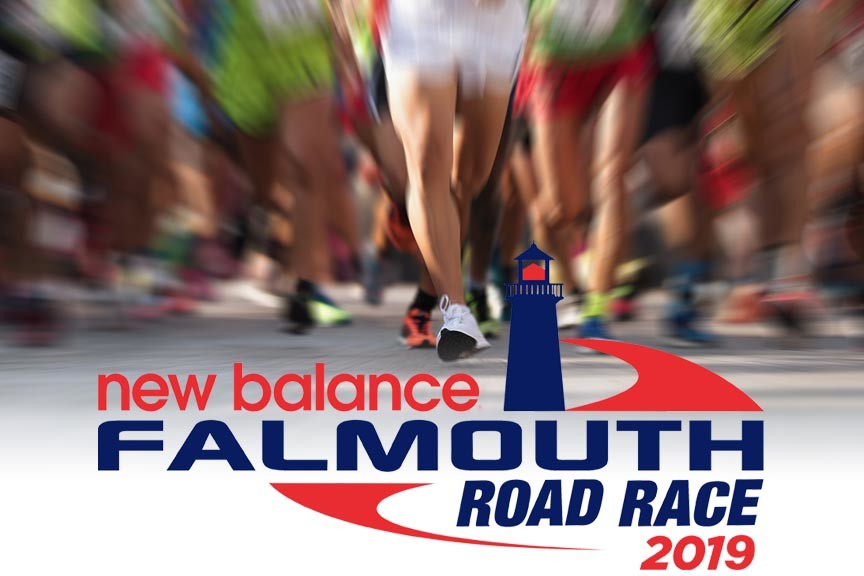 It's time to lace up those running shoes! The annual Falmouth Road Race is nearly here, scheduled for Sunday, August 14th through the 18th, 2019. Whether you plan on participating or just spectating, it's bound to be a very fun and active five days here in Falmouth, MA.
The annual Falmouth Road Race has been a popular summer tradition here on Cape Cod since 1973. The race draws thousands to the area every summer, from world-class runners to beginners. The 7-mile course runs along the beach from Woods Hole to Falmouth Heights.
The race may only occur on a single day but related activities stretch the event out to a five full days.
Falmouth Road Race Week Events
Race Week is filled with lots to do and see:
Health & Fitness Expo – August 15-17
Discover the latest in running and fitness along with official race apparel, shoes, and more. The Expo will also host Book and Poster Signings by former Olympians, road race legends, and local celebrities. Special guests include NASA astronaut Sunita Williams, Paralympic gold medalist Tatyana McFadden, race poster artist Karen Rinaldo, author Paul Clerici, and others.
Falmouth Road Race Sports Medicine Symposium – August 15
See presentations on a range of running-related topics. Orthopedic injuries, physiological concerns, strategies to optimize performance, wearable technologies, and more.
Falmouth Walk – August 17
Come walk for charity in downtown Falmouth. 3.2 or 1.5-miles at Town Hall Square. The distance is 3.2 miles. The annual post-Walk picnic and raffle/auction follow. falmouthwalk.org
These are but a few examples of all there is to see and do during race week. See more on the race website.
Falmouth Road Race 2019 Schedule
Wednesday, August 14 –
Volunteer Appreciation Party – 6pm to 8pm
Thursday, August 15 –
Health & Fitness Expo and Number Pick-up – 4pm to 8pm
Sports Medicine Symposium – 5:30pm to 8:30pm
Friday, August 16 –
Health & Fitness Expo and Number Pick-up – 12pm to 8pm
Saturday, August 17 –
Health & Fitness Expo and Number Pick-up – 9am to 4pm
Falmouth Walk at Town Hall Square – 10am
The Progression of Wheelchair Racing – 11am to 12pm
Wheelchair Duo legends, Rick and Dick Hoyt – 12:30pm
Past Champions/ Legends Panel – 1:30pm to 2:30pm
Saturday Track Festival –
SBLI Family Fun Run – 4pm
AETNA Falmouth Elite Mile – 5pm
Tommy Cochary High School Mile – 5:30pm
Sunday, August 18 –
Early Start – 8am
Wheelchair Start – 8:40am
Women Elite Start – 8:50am
Elite Men and Open Start – 9am
Course closes & Post-Race Beer Garden Bash – 11:15am
Visit the Falmouth Road Race website for more information.
Falmouth Lodging
Whether you're here for the race or just soaking up lovely Cape Cod, Captain's Manor Inn would love to be your Falmouth home away from home. Each of our 7 guestrooms includes a private bath, plush pillow-top mattresses, and Gilchrist and Soames bath amenities. Our guests also enjoy full, multi-course breakfasts, free parking, WiFi, and the convenient location of our Cape Cod bed and breakfast. Book your stay at The Captain's Manor Inn today!