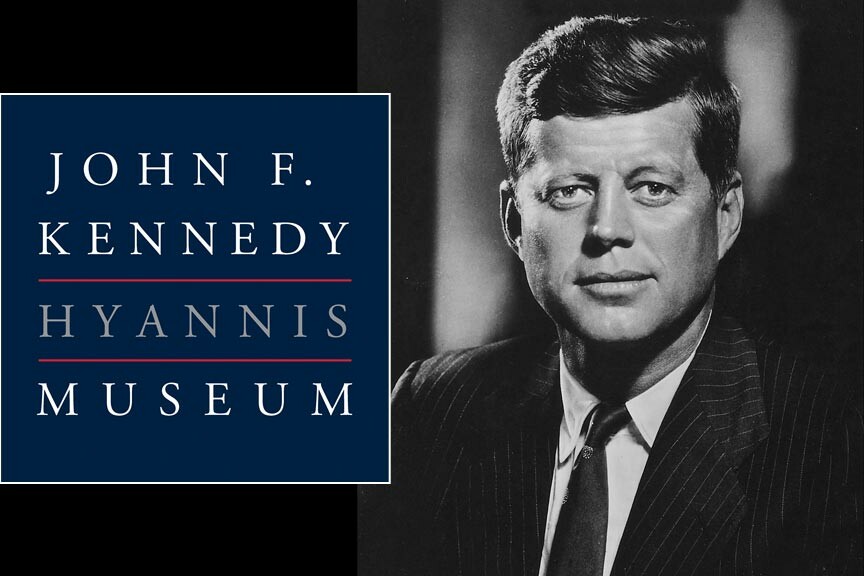 Get an in-depth look at the 35th president of the United States, his family's connection to Cape Cod, and their continuing political dynasty at the John F Kennedy Hyannis Museum.
President John F Kennedy left a lasting legacy of global citizenship and public service. When he wasn't on the world stage, however, more often than not you could find him here, in Cape Cod.
In fact, the Kennedy Compound is in Hyannis Port, less than three miles from the museum. Joe Kennedy bought the property in 1927 and it was the family's favorite vacation destination.
JFK loved Cape Cod and showed it in many ways, even while busy in Washington. As a Senator, he introduced and championed Cape Cod National Seashore legislation. As President, he signed that legislation into law.
It's fitting that a museum dedicated to JFK's memory should be located in an area he so deeply loved.
Visiting the JFK Hyannis Museum
A statue of the President, walking barefoot across the sand in a relaxed, natural stride, greets visitors to the museum. Inside, the same statue is repeated only now in miniature and with his adult son, JFK Jr., by his side. It's title, "What Could Have Been," echoes the sentiment many feel after touring the museum.
The former town hall building now houses a multimedia exhibition of JFK's days on Cape Cod. Exhibits display a wealth of JFK and Kennedy family photos, videos, and memorabilia, from 1934 to 1963.
Current displays include Cape Cod Remembers JFK Jr, JFK at 100, and Creating Camelot: The Kennedy Photography of Jacques Lowe. The deeply emotional nature of many of the subjects isvery effecting. Luckily, many of the pictures depict the President or his family and friends at happy play here on the Cape, so it's not too hard to perk that smile right back up.
Visitors will also enjoy fascinating oral histories and an orientation video narrated by Walter Cronkite. The museum also hosts a variety of concerts and other special events throughout the year.
John F Kennedy Hyannis Museum
397 Main St, Hyannis, MA 02601
Museum hours vary with the season. Visit the museum at jfkhyannismuseum.org for current hours and other info. You can also follow the Museum on Facebook, Instagram, and Twitter.
The JFK Hyannis Museum is the first stop along the Hyannis Kennedy Legacy Trail. The Hyannis Kennedy Legacy Trail is a short, self-guided tour that takes you to ten different, Kennedy-related sites in town. Maps of the trail are available at the museum and online at the Hyannis Kennedy Legacy Trail site.
Cape Cod Lodging
The JFK Museum in Hyannis is an easy, 40 minute drive from our Falmouth bed and breakfast, Captain's Manor Inn. The Museum and Kennedy Legacy Trail will keep you busy for an afternoon and help introduce a little bit of the area to you. Then head back to our Falmouth inn for a relaxing glass of wine before dinner at one of the area's many wonderful restaurants.