July 14, 2014 by Trish Robinson
Falmouth Commodores take on the Bourne Braves at Guv Fuller Field behind the Gus Canty Community Center.
July 4, 2014 by Trish Robinson
Expressions in Stitches, Then and Now by artist Salley Mavor will be on exhibit at the Falmouth Museums on the Green from July 4th through August 18th.
July 1, 2014 by Trish Robinson
Portals and Passageways @ Highfield Hall is a incredible undertaking where the show features the work of 25 regional artists who have created artworks throughout Highfield Hall's remarkable mansion and the surrounding grounds and gardens. Annie Dean, Highfield's director of programs and exhibitions is the curator for the show. In creating the show Annie sought to have visitors explore the property and the adjacent Beebe Woods coming from a new point of view. The concept is that visitors will embark on passageways that will guide them to new places and portals that encourage a new point of view. A number of temporary environmental works will be on display between June 29th and September 7th as well as some more permanent sculptures that were installed in the spring. Artisans include those skilled in sculpture, fiber art, landscape design, glass blowing, photography and painting. The exhibition is created as a walking tour that starts inside Highfield Mansion and then continues through the grounds.
June 25, 2014 by Trish Robinson
The Falmouth Commodores play the Hyannis Harbor at their home field of Gus Fuller.
June 24, 2014 by Trish Robinson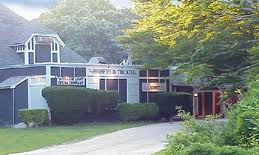 Highfield Theatre is the setting for the College Light Opera's performance of The White Horse Inn. For a listing of all performances click on this link for College Light Opera – http://www.collegelightoperacompany.com/
June 24, 2014 by Trish Robinson
Falmouth Commodores play the Brewster Whitecaps at 6:30 on their home field of Guv Fuller
June 21, 2014 by Trish Robinson
Kick off the 2014 summer season with good food , friends, and fun at the St. Barnabas annual strawberry festival.
June 19, 2014 by Trish Robinson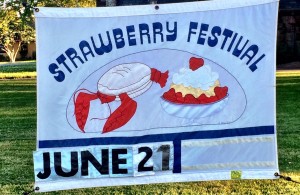 The Falmouth Strawberry Festival 2014 will be celebrated on June 21st marking an official start to the 2014 summer season. This is your opportunity to enjoy beautiful Falmouth Cape Cod on the grounds of St. Barnabas church. The church is located across from the historic Falmouth Village Green and a short stroll into Falmouth Village. Save your appetite so you can enjoy lobster rolls, hot dogs and bbq chicken then finish off with scrumptious strawberry shortcake under the tent on St. Barnabas lawn. After indulging your appetite browse the Arts and Crafts vendors, home baked goods sale, plant sale, face painting, dunk tank, and small children's games. The weather forecasters are predicting absolutely picture perfect weather for the weekend. We make a point of visiting the strawberry festival and filling up on their great bbq chicken while making sure to save room for strawberry shortcake. Our guests love the feel of the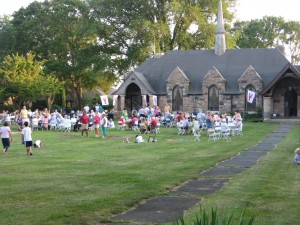 festival as it brings them back to a simpler time of town celebrations with good food and entertainment on the lawn. After the festival take some time to walk into Falmouth Village and explore the many boutique shops with unique gifts and perhaps some salted caramels from Ghelfi's or ice cream for Ben and Bill's Chocolate emporium. As the weather is predicted to be fabulous perhaps a walk to the beach in in order and less than a mile from St. Barnabas.

June 11, 2014 by Trish Robinson
Arts Alive is a free three day event taking place annually in Falmouth Cape Cod. This year the festivities begin on Friday, June 20th and continue through Saturday, June 21st and Sunday, June 22nd.
This year promises to be extra special with over 50 artisans and craftspeople showcasing their wares. From watercolor artists to pottery masters and photographers to stain glass artisans they will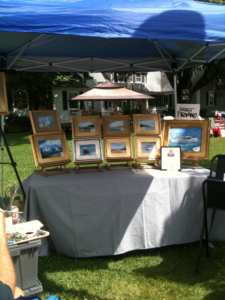 all be on hand to offer you the opportunity to admire their work and purchase a gift for yourself or others.
There will also be over 60 different performances of dance, theater and music to include jazz, folk, fiddle, classical and show tunes. The hours for this year's festivities are on Friday June 20th starting at 5 pm and continuing until 9 pm, then on Saturday, June 21st from 10 am until 9 pm and finishing on Sunday, June 22, from 11 am until 5 pm.
For an up to date schedule of Arts Alive events and participants you can go to the ArtsFalmouth website link dedicated to Arts Alive at  http://www.artsfalmouth.org/d7/arts-alive.   The Arts Alive events all take place in beautiful Falmouth Village near numerous restaurants and boutique shops. Falmouth is a vibrant year round community in Cape Cod that benefits from an incredible amount of activity spearheaded by ArtsFalmouth to encourage art in its many forms to be shared and enjoyed.
June 6, 2014 by Trish Robinson
One Night Wonder Getaways are those rare open single nights especially on a weekend and during the summer in Cape Cod. Perhaps you have a chance for one night, just the two of you, away from the kids or maybe you need to make a business trip to Falmouth and only need to be in town for one night. We may have that one night getaway available and you can enjoy a respite with us in quaint Falmouth Village.
If you find you are looking for just that single night …. check what we have available below and then
September 10th – K.L. Bates – Premium King Guestroom
September 16th – Canopy – King Guestroom
September 17th  K.L. Bates – Premium King Guestroom, Robinson – Premium King Guestroom
September 18th  Tuscany -King Guestroom, Lawrence  -Queen Guestroom
September 21th  K.L. Bates – Premium King Guestroom
September 25th  K.L. Bates – Premium King Guestroom, Hatch – Premium King Guestroom
September 26th     Canopy – King Guestroom
September 28th Robinson – Premium King Guestroom
October 2nd  K.L. Bates – Premium King Guestroom, Lawrence – Queen Guestroom, Robinson – Premium King Guestroom
October 5th Hatch – Premium King Guestroom, K.L. Bates – Premium King Guestroom
October 15th Canopy – King Guestroom
October 16th Hatch – Premium King Guestroom