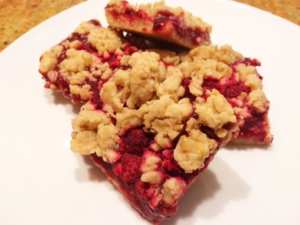 Raspberry Bars at The Captain's Manor Inn are a guest favorite. This past week we had a guests request the recipe so she could make them at home. To serve 15 people, we start with 2 boxes of Krusteaz Raspberry bars and doctor them up a bit to put our own spin on them. To make the bars more substantial we use the shortbread crust from both boxes for the bottom crust, and make our own crumble topping to finish it off. In addition to raspberry filling provided, we add fresh or frozen raspberries to really bring out the raspberry flavors. To make these raspberry bars at home follow the directions below!
Equipment:
Ingredients
2 boxes Krusteaz Raspberry Bar Mix
2 sticks butter
1 cup frozen raspberries
Crumble Top
1 cup all purpose flour
1/2 cup brown suagr
1 teaspoon baking powder
1/2 teaspoon cinnamon
1/4 teaspoon salt
8 Tablespoons unsalted butter. softened
Directions:
Make the crumb topping: Whisk together all dry ingredients then add in softened butter and mix with fork until crumble is formed
Prepare crust from box as directed and press into glass pan coated with cooking spray
Bake for about 12 minutes
Spread raspberry filling all over hot crust and top with frozen raspberries, then the home made crumble
Bake for 26-28 minutes until the crumble is golden and the raspberry filling is bubbling on the sides.
Cool completely before cutting, this pan makes 15 squares
Enjoy heated up or at room temperature !