January 10, 2015 by Trish Robinson
The Tuscany guestroom renovation is underway. We thought it would be fun to share some pictures from when we first purchased the Inn 5 years ago , the initial renovations we made and the ones underway now.
2010
When we purchased the Inn the Tuscany room had a Queen bed a sink in the corner or the room next to a closet. As you can see from the closet there was some very old wallpaper one the walls in the closet.
There was a very small bathroom which had a toilet and a small shower with a flexible plastic accordian style door in  a very compact space.
Our first renovations during the spring of 2010 included a new carpet , a new Queen bed, replacement of the louver bathroom door with a solid wood door that we found at the New Bedford Antique and Renovation warehouse, new reclining Queen Anne chairs, and a number of other little changes.
2012
When we did the new 3000 square foot addition in 2012 to add 3 guestrooms we also increased the Tuscany bathroom by more than twice its original size and put a shower/tub combination in the large bathroom and another sink in the large bathroom plus kept the original sink in the corner of the guestroom. We also replaced the Queen bed with a King bed.
2015
We are now in the process of painting the walls in the Tuscany room however we are keeping some of the trompe l'oeil murals. For example, the brick around the closet door and entrance door, the special mural on the exterior of the bathroom entrance and if you look closely you will see two of the original butterflies on one of the guestroom walls. We have also decided to replace the tub/shower combination with a large custom rainshower with a glass door system. That work will begin in late February.
We will update the blog post with new pictures as we get further along.
August 29, 2014 by Trish Robinson
Foul Mouth by artist Jenny Fragosa will be on exhibit at the Falmouth Museums on the Green from August 29th through October 11th. A fun play on words in the title of the exhibit which is based on a look back at history in the town of Falmouth.
July 22, 2014 by Trish Robinson
Falmouth Commodores are set to play the Bourne Braves at their home field of Guv Fuller. The Field is located on Main Street in Falmouth behind the Gus Canty Community Center.
July 20, 2014 by Trish Robinson
Falmouth Commodores take on the Wareham Gateman at their home field in Falmouth. The Guv Fuller Field is located behind the Gus Canty Community Center on Main Street.
July 19, 2014 by Trish Robinson
Falmouth Commodores take on the Orleans Firebirds at Guv Fuller Field which is located behind Gus Canty Community Center on Main Street in Falmouth Cape Cod.
July 16, 2014 by Trish Robinson
Falmouth Commodores take on the Chatham Anglers at Guv Fuller Field located on Main Street in Falmouth behind the Gus Canty Community Center.
July 4, 2014 by Trish Robinson
Expressions in Stitches, Then and Now by artist Salley Mavor will be on exhibit at the Falmouth Museums on the Green from July 4th through August 18th.
July 1, 2014 by Trish Robinson
Portals and Passageways @ Highfield Hall is a incredible undertaking where the show features the work of 25 regional artists who have created artworks throughout Highfield Hall's remarkable mansion and the surrounding grounds and gardens. Annie Dean, Highfield's director of programs and exhibitions is the curator for the show. In creating the show Annie sought to have visitors explore the property and the adjacent Beebe Woods coming from a new point of view. The concept is that visitors will embark on passageways that will guide them to new places and portals that encourage a new point of view. A number of temporary environmental works will be on display between June 29th and September 7th as well as some more permanent sculptures that were installed in the spring. Artisans include those skilled in sculpture, fiber art, landscape design, glass blowing, photography and painting. The exhibition is created as a walking tour that starts inside Highfield Mansion and then continues through the grounds.
June 11, 2014 by Trish Robinson
Arts Alive is a free three day event taking place annually in Falmouth Cape Cod. This year the festivities begin on Friday, June 20th and continue through Saturday, June 21st and Sunday, June 22nd.
This year promises to be extra special with over 50 artisans and craftspeople showcasing their wares. From watercolor artists to pottery masters and photographers to stain glass artisans they will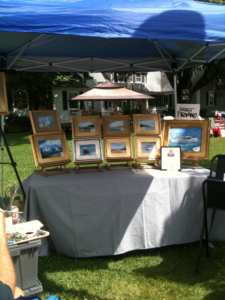 all be on hand to offer you the opportunity to admire their work and purchase a gift for yourself or others.
There will also be over 60 different performances of dance, theater and music to include jazz, folk, fiddle, classical and show tunes. The hours for this year's festivities are on Friday June 20th starting at 5 pm and continuing until 9 pm, then on Saturday, June 21st from 10 am until 9 pm and finishing on Sunday, June 22, from 11 am until 5 pm.
For an up to date schedule of Arts Alive events and participants you can go to the ArtsFalmouth website link dedicated to Arts Alive at  http://www.artsfalmouth.org/d7/arts-alive.   The Arts Alive events all take place in beautiful Falmouth Village near numerous restaurants and boutique shops. Falmouth is a vibrant year round community in Cape Cod that benefits from an incredible amount of activity spearheaded by ArtsFalmouth to encourage art in its many forms to be shared and enjoyed.
June 6, 2014 by Trish Robinson
One Night Wonder Getaways are those rare open single nights especially on a weekend and during the summer in Cape Cod. Perhaps you have a chance for one night, just the two of you, away from the kids or maybe you need to make a business trip to Falmouth and only need to be in town for one night. We may have that one night getaway available and you can enjoy a respite with us in quaint Falmouth Village.
If you find you are looking for just that single night …. check what we have available below and then
Many weekdays in April, May and October are available for 1 day just check the availability calendar.
Specific Special One Night Wonders:
Thursday August 20th: Lawrence Queen Guestroom
Sunday August 23rd: Hatch – Premium King Guestroom
Tuesday August 25th Nye – Queen Guestroom
Wednesday August 26th: Robinson – Premium King Guestroom
Monday August 31st: Tuscany – King Guestroom
Monday September 7th: Forbes, Lawrence and Nye-all are Queen Guestrooms
Thursday September 10th: Forbes Queen Guestroom
Monday September 14th: Nye Queen Guestroom
Tuesday September 15th: K.L. Bates – Premium King Guestroom
Tuesday September 15th: Canopy – King Guestroom
Wednesday September 16th: Hatch – Premium King Guestroom
Saturday September 19th: K.L. Bates – Premium King Guestroom
Thursday September 24th: Robinson – Premium King Guestroom
Monday September 28th: Hatch – Premium King Guestroom
Monday September 28th: Lawrence – Queen Guestroom
Thursday October 1st: Hatch – Premium King Guestroom
Thursday October 1st: Lawrence – Queen Guestroom
Saturday October 3rd: Bates – Premium King Guestroom
Sunday October 11th: Nye – Queen Guestroom
Friday October 16th: Hatch – Premium King Guestroom
Monday October 26th Hatch – Premium King Guestroom