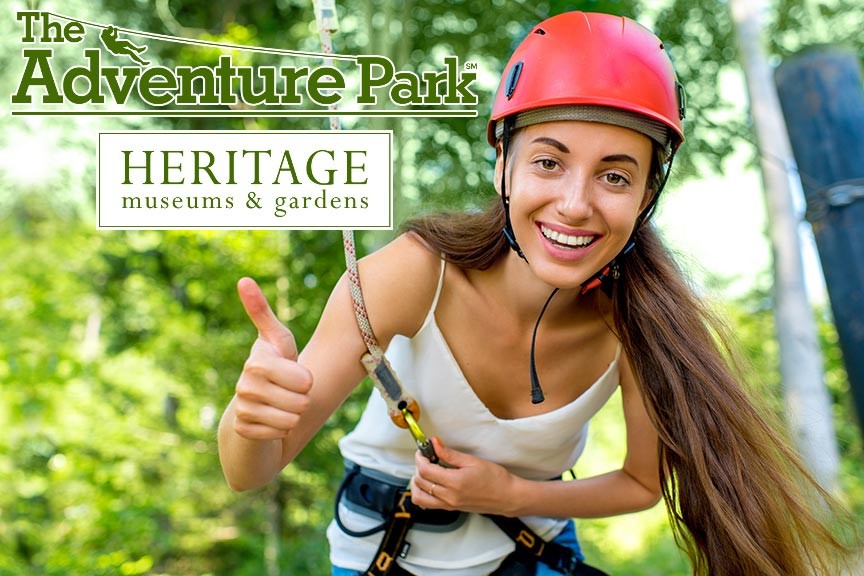 Come fly through the trees with the greatest of ease on a zipline at Heritage Adventure Park! Captain's Manor Inn makes it easy with our Cape Cod Heritage Adventure Park Package!
The Adventure Park at Heritage Museums & Gardens has been a wonderful addition to the area. This safe, fun, and exciting tree-top adventure consists of elevated platforms connected by ziplines and rope courses to create a series of aerial trails.
Each trail presents a different series of challenges as you navigate your way from platform to platform. The park's 4 wooded acres offer 5 separate trails of varying levels of difficulty, and over 65 unique challenges.
While you may sometimes feel like you're awfully far from the ground, you don't need to worry. The park's double-connected, "always-locked-on" climbing system makes sure you're attached to a safety line at all times. You'll also be given a safety briefing prior to ascending to the courses and Adventure Park staff members are always nearby to assist you.
Making your way through the canopy is a fun challenge – and very rewarding! You develop skills, endurance, and confidence monkeying around in those trees!
Heritage Adventure Park also has a Forest Walk that you can explore for free! The network of educational forest trails includes informational signage as well as allowing you to watch the rope course and ziplines overhead.
Heritage Adventure Park is located on the grounds of Heritage Museums & Gardens. Heritage Museums & Gardens are also worth your attention.
The 100 acre grounds include the largest public garden in Southern New England, containing collections of international import. The grounds also include a gallery of American Folk Art, a vintage carousel, classic automobiles, and more.
Heritage Adventure Park
67 Grove Street, Sandwich, MA 02563
Heritage Adventure Park is open April through November. Hours vary from month to month, based upon the hours of daylight. See a full schedule at the park website.
The Captain's Manor Inn Heritage Adventure Park Package
As we mentioned at the top, our Cape Cod B&B offers a Heritage Adventure Park lodging package. It includes 2 tickets for 2 hours of climbing time, plus around a half-hour of harnessing/orientation/practice time.
What's more, our Heritage Adventure Park Package gives you admission to Heritage Museums and Gardens! View the details of our Cape Cod Adventure Park Package.
Captain's Manor Inn offers a variety of Cape Cod lodging specials and packages designed with making your Cape Cod getaway the very best it can be. Take a look and see which ones you'd like to take advantage of!