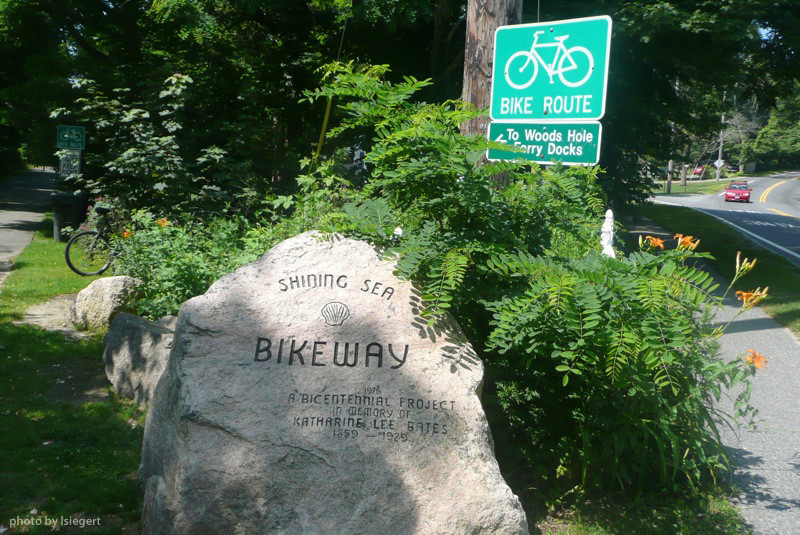 Come discover Cape Cod's Shining Sea Bikeway and save with The Captain's Manor Inn Bed, Breakfast and Biking lodging package!
The Shining Sea Bikeway is a reclaimed rail line turned bike path that runs from Woods Hole to North Falmouth. The nearly 11 mile trail follows the old New York, New Haven, and Hartford Railroad route that once ran from Buzzards Bay to Falmouth Station.
The trail was created in the early 70's by the Town of Falmouth. They purchased the defunct line's right of way, tore up the tracks, and created what was then nearly 4 miles of beautiful bike path.
Since then, the trail has gained a further 7.4 miles to extend nearly 11 miles. The Shining Sea Bikeway hugs the coast as it winds along the Vineyard Sound shoreline. Paved and almost entirely level, the trail is ideal for both the casual and beginner cyclist. The grades that do exist along the trail are slight and rare.
Best of all, the Bikeway is scenic and beautiful, avoiding much of the area's traffic. The route passes through salt marshes, cranberry bogs, woodlands and takes you past ponds, sandy shores, and a working harbor. In fact, it's the only seaside bikeway on Cape Cod.
Shining Sea Bikeway is well maintained and lined with plantings of native flowers and trees. The bikeway also has a bike repair station, should you require it. Bike tools, an air pump, hanging frame rack are yours to use. There's even an online support QR reader code at the station, should you need further assistance.
Shining Sea Bikeway Lodging Package
The Captain's Manor Inn would love to help you get out and on the Shining Sea Bikeway. If you enjoy biking, you'll love this experience – and our Cape Cod lodging package can help!
Our Triple B Cape Cod Getaway – Bed, Breakfast and Biking includes:
One-day adult bike and helmet rentals for two
Bean & Cod gourmet lunch basket for two for your excursion
Full breakfasts every morning
Afternoon treats and beverages on our wrap around veranda or in the living room
Go to the Triple B Cape Cod Getaway page for more details. You should also check out all our other Cape Cod lodging specials and packages!